Articles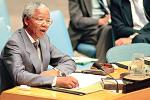 Daniel McLaren - Less than six months after assuming the presidency, Nelson Mandela went to New York to sign the International Covenant on Economic, Social and Cultural Rights (ICESCR). But South Africa also enacted its own Constitution to advance socio-economic rights in 1996, leading to delays in the ratification of the ICESCR. South Africa's experiment in democracy had just begun and the country justifiably embraced the opportunity to chart its own constitutional course. It was only in the late 2000's that a campaign was formed to push for the ratification of the ICESCR. It was eventually ratified on January 12, 2015. What does it mean for South Africa?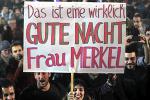 Greg Palast - Europe is stunned, and bankers aghast, that the new party of the Left, Syriza, won Sunday's parliamentary elections in Greece. Syriza won on the promise that it will cure Greece of leprosy. Oddly, Syriza also promises that it will remain in the leper colony. That is, Syriza wants to rid Greece of the cruelty of austerity imposed by the European Central Bank but insists on staying in the euro zone. The problem is, austerity run wild is merely a symptom of an illness. The underlying disease is the euro itself. The horror of austerity is not the consequence of Greek profligacy. Sadly, it something that was designed into the euro's plan right from the beginning.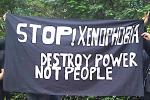 Mandisi Majavu - Three months after the South African government announced that it was planning to introduce a controversial stringent application process for refugees seeking asylum in the country, foreign-owned shops are being looted in Soweto and foreign nationals are being subjected to xenophobic attacks again. The way in which ordinary South Africans embody, (mis)construe and then act out the values and outlook of our socio-political institutions when it comes to the issue of foreign nationals is too remarkable to ignore.leaves behind disrupted lives and grieving spouses and children. That is the human cost of intolerance.
Anna Majavu - A truck transporting 100 cattle to the abattoir overturned last week on the N1, with 32 cows then allegedly being stolen by residents of a nearby poor community. News websites carried a story sourced from a National Society for the Prevention of Cruelty to Animals (NSPCA) press release, which described the residents negatively as "frenzied", a "mob" and "vultures" and said they had "the intention" to hack pieces of flesh off the living creatures while they were trying to escape". The NSPCA then allowed hundreds of un-moderated responses to the story on its Facebook page, which described Black people as "savages", "uncontrollable" and "primitive".
More Articles
Videos

Watch - Irvin Jim, General Secretary of Numsa, recently toured the U.S. on a speaking tour where he was also interviewed by The Real News Network. In Part One of an in-depth interview, Jim talks about his early life and how a difficult life as the son of farmworkers in the town of Port Alfred led him to activism as a young teenager. In this fascinating exchange, Jim offers insights into his radicalisation, which included leading the Congress of South African Students (COSAS) where he earned his struggle credentials in the anti-apartheid movement, paving the way for his rise in the labour movement from humble beginnings on the shop floor of a tyre factory.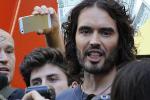 Watch - Not since the 1930's has a far left party been in power in a European democracy. Comedian, author, activist, and presenter of The Trews, Russell Brand contends that Syriza's win at the polls in Greece this week is a victory for compassion and a strong rejection of the values of corporatism. Brand says that he finds it exciting that an anti-capitalist party is in power in Greece. "The reason I am excited about this is because Syriza are approaching capitalism from a completely different perspective," he said. "If we, in our country, had a party like Syriza I would vote for it," he continued.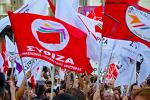 Watch - Speaking about the historic victory of Greece's anti-austerity party, Syriza, Leo Panitch, distinguished research professor at York University in Toronto says Syriza is a party of modern class struggle, in which not only the working class in the old sense, but more dynamically the new working class made up of knowledge workers, women and immigrants, are represented. Syriza is a party that embedded itself in social movements in the last decade, so it's a very different beast. Panitch argues that this will be an honest government, but maintains that it is a very difficult thing to transform the state.
Popular Now