Land & Housing
SACSIS endorses the right of the poor to decent housing. We also support solutions aimed at transforming the unequal balance in land ownership, which currently concentrates much of South Africa's land in a few hands.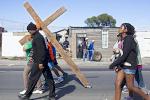 Richard Pithouse - Urban land is acutely contested in contemporary South Africa. There are regular land occupations, some taking the form of quiet encroachment and some taking the form of overtly political acts. At the same time most municipalities have armed units that, often acting violently, and more or less invariably acting illegally, try to sustain the duopoly of the state and the market over the allocation and zoning of urban land. When land occupations are presented as simple acts of criminality,...
Glenn Ashton - At the birth of our democracy the incoming government ambitiously stated they would redistribute thirty percent of agricultural land, 25 million hectares, by 1999. When it was obvious the goal could not be met, the delivery date was shifted to 2014. Today we are not even a third of the way to achieving this limited target. The question of redistribution, restitution and broadened access to land remains a powder keg. The jobless and hopeless are increasingly receptive to this explosive...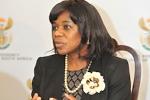 Cameron Brisbane - One of the rarely debated elements in the fight against corruption is the protection afforded to whistle-blowers. They are no doubt the entry-point into the majority of investigations into wrongdoing. Public and state-owned companies are required, in terms of Section 159(7) of the Companies Act, to establish mechanisms to receive disclosures of impropriety and to publicise them to stakeholders -- employees, shareholders and even suppliers. This obligation is reinforced in the King III Code of...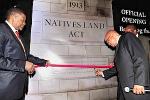 Glenn Ashton - Land reform in South Africa has proceeded at a glacial pace, repeatedly breaking government deadlines and promises to fix historical dispossession wrought by the notorious Land Act. Land reform has revolved around the twin axes of restitution and redistribution; while the majority of cases lodged around restitution have been settled, redistribution and fundamental land reform has largely failed to occur. As legal commentator Pierre De Vos recently said, we cannot wait another generation to...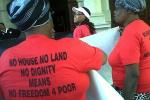 Richard Pithouse - In the last days of June, Nkululeko Gwala was assassinated in Cato Crest - a shack settlement in Durban that is in the process of being upgraded with formal housing. Just over three months ago Thembinkosi Qumbelo was gunned down in the same streets. Both men had been prominent figures in the increasingly bitter struggles around housing that have convulsed Cato Crest in recent months. There have been road blockades, a land occupation – named, as they often are these days,...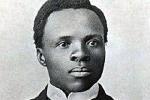 Richard Pithouse - In 1652, the year that Jan van Riebeck first stepped on to these shores, Gerrad Winstanley, an English radical, published a pamphlet called The Law of Freedom in a Platform. Three years earlier he had led a land occupation on St. George's Hill in Surrey. The occupation had aimed, against the growing enclosure of common lands for private profit to insist that "the Earth becomes a Common Treasury again". It was quickly and violently crushed. The pamphlet that Winstanley published...