Steven Friedman
Steven Friedman is the Director of the Centre for the Study of Democracy at Rhodes University and the University of Johannesburg.

He is a political scientist who has specialized in the study of democracy. During the 1980s, he produced a series of studies of reform apartheid and its implications for a democratic future. He researched and wrote widely on the South African transition to democracy both before and after the elections of 1994 and has, over the past decade, largely written on the relationship between democracy on the one hand, social inequality and economic growth on the other. In particular, he has stressed the role of citizen voice in strengthening democracy and promoting equality.

Click on the picture for a larger image.
Steven Friedman - The more the courts do to fix poverty and inequality directly, the more likely is it that people will remain poor and unequal. For some time, an important debate has been raging between legal academics who want our courts to help the fight for social justice. It has been confined to law journals and has hardly registered in the public debate. This is a pity, since it addresses a crucial question: how can the courts help to combat poverty and inequality? The constitutional court has...
Steven Friedman - OUR real 'ticking time bomb' may be not poverty, but what it always has been – race. Our angriest people may not be those forced to survive on much less than they need, but the black middle class. Poverty is our biggest problem: it affects most people and imposes huge economic and social costs. But the frequently heard claim that poor people are about to rise up and destroy the economy ignores reality: poverty usually forces people to be more pragmatic because more is at...
Steven Friedman - If the social justice agenda here depends on inflating the popular support and the commitment to equality of a loud group of racial nationalists, it is in more trouble than we thought. The nationalists are the Economic Freedom Fighters (EFF), whose 6, 35% of the vote has been hailed by the media, commentators and voices on the left. If we look at the numbers, it is hard to see why the EFF should deserve this hero-worship. If we look beyond them, we will find the reaction to Julius...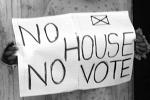 Steven Friedman - On one level, the question seems ridiculous. All elections offer choices and all of us are allowed to vote. So many parties are likely to appear on this year's ballot paper that the Independent Electoral Commission might face a serious printing challenge. Isn't the fact that we can all choose who will govern us from a wide array of parties one of the great achievements of the fight against apartheid? Yes and No. The vote is an essential tool for citizens who want a share in the...