Labour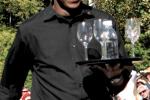 Saliem Fakir - In the city where I live, Cape Town, it's not unusual to hear a foreign accent or see a foreigner. Foreigners are part of the intricate web, not only of the Cape's economy, but also of the rest of South Africa. Foreigners arouse one's curiosity. Some are treated better than others, but there are always questions in people's minds - how did they make their entry into South Africa? Where did they come from? Why did they come here? Who employs them? Despite our talk...

In an extensive interview, Numsa's general secretary, Irvin Jim, talks to Fazila Farouk of SACSIS about Numsa's current strike, alliance politics as well as its United Front and Movement for Socialism. In response to a question about building greater solidarity between the middle class and the poor, Jim argues that Numsa's movement for socialism is not only for people who are "red". He says that the middle class has a right to live the kind of life that it...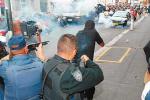 Mohamed Motala - In recent years, strikes in South Africa have become turbulent. Today the Farlam Commission is hearing evidence of the 2012 strike on the platinum belt that was characterised by extreme use of violence on all sides. Mining companies, Lonmin, AngloPlat and Implats, assisted by the South African police, displayed aggressive behaviour towards striking mineworkers, which resulted in an elaborate show of force culminating in the biggest post-apartheid massacre in the history of South Africa....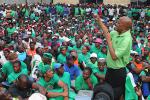 Prof. Patrick Bond of the Centre For Civil Society speaks to The Real News Network about the end of the platinum belt strike and its implications for the future of labour in South Africa. He argues that the economy is about to formally go into a recession and that rating agencies Standard & Poor's and Fitch's recent downgrading of South Africa will likely lead to a great deal of posturing about the need to discipline labour and relax some of the gains that labour has won,...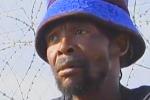 Media for Justice's Sipho Singiswa was in Marikana two months ago at the height of the platinum belt strike. He talked to striking mineworkers and their families about the trials and tribulations of living in South Africa's low wage economy. Mineworkers and their wives spoke with passion about their daily struggle for survival and dignity. President Jacob Zuma was particularly singled out for his polygamy and lavish lifestyle. The resolution of the platinum strike is an important...
Richard Pithouse - The massacre on 16 August 2012, and the events that followed it, including the grinding strike that has just been concluded, have inscribed Marikana into our history. The name Marikana and the date 16 August have been carved into our history with the same brutality, blood and resolve that have shaped so many of the events that have brought us to where we are. Around the world both the massacre and the long and bitter strike have often been decisive turning points in societies. From Algeria...