Labour


The National Union of Metalworkers' of South Africa (Numsa) is set to host a preparatory assembly for the launch of its United Front on 13 and 14 December 2014 in Johannesburg. Just over a fortnight ago, the United Front's coordinator Dinga Sikwebu, talked about the aims and objectives of the front at an international seminar exploring the theme, "The Relationship between Labour and Civil Society in the Struggle for Social Justice". Delegates from as far afield as...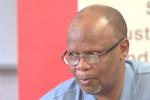 On November, 22 at a panel discussion co-hosted by SACSIS and Norwegian People's Aid (NPA), Dinga Sikwebu, co-ordinator of Numsa's United Front talked to an international audience about the metalworkers' union expulsion from Cosatu, saying that the reason underpinning its expulsion was that Numsa took a decision that Cosatu should break its relationship with the ruling ANC because South Africa needed an independent trade union movement. Sikwebu argued, "the people at Cosatu expelled...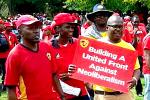 Jane Duncan - The country's largest trade union federation, the Congress of South African Trade Unions (Cosatu), has expelled the National Union of Metalworkers' of South Africa (Numsa), for not supporting the African National Congress (ANC). Anyone in South Africa who doesn't know this news must have been living under a rock for the past week. Numsa has been exploring political alternatives for the past year. In its December 2013 congress, it decided to launch a United Front to...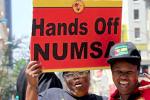 Back in March 2012, a good five months before the Marikana massacre exposed the internal weaknesses of the South African trade union sector, SACSIS' Fazila Farouk interviewed labour expert, Ighsaan Schroeder, who said that Cosatu was well on its way to demise and could collapse within a mere 15 years due to serious structural weaknesses in the trade union sector. Soon after the Marikana massacre, Schroeder revised his prediction saying that he gives Cosatu just another five years before...
Dale T. McKinley - It is arguably the most important political development of South Africa's post-1994 era. On Friday, South Africa's largest union, the National Union of Metalworkers of South Africa (NUMSA) was expelled by the majority of the leadership belonging to South Africa's largest union federation, the Congress of South African Trade Unions (COSATU). The political significance of NUMSA's expulsion derives from three key, inter-related areas of impact. On the ANC-Led...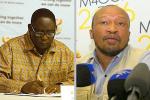 Leonard Gentle - The COSATU Central Executive Committee (CEC), the decision-making body of affiliate leaders, which meets between the more representative Congresses and Central Committees, held a meeting last week to decide on the fate of its biggest affiliate, the National Union of Metalworkers (NUMSA) and to discuss the report of its General Secretary, Zwelenzima Vavi, himself the subject of dispute. This CEC was the consequence of a decision at a postponed CEC in April this year at which time the ANC...