Democracy & Governance
The relationship between democracy and governance and the realisation of socio-economic rights is an important issue for debate. SACSIS seeks to understand this relationship and identify issues that act as barriers to pro-poor democracy.
Dale T. McKinley - Breaking news! In case you missed it, 2014 was the first full year of South Africa's 'radical second phase' of the National Democratic Revolution (NDR). Apparently, we are now well into a nation-wide process of 'radical transformation' that is definitively putting the country on a 'new growth and development path'. For a moment at least, forget about the return of rolling blackouts, the record-breaking wealth and conspicuous consumption of the...
Steven Friedman - Why is an idea, which featured in Marxist debates decades ago now thrown about by all sides in mainstream public debates? Why is it used by both sides in the dispute wracking Cosatu? Because it touches on a core issue facing our society. The idea - or slogan - is 'national democratic revolution' (NDR). Both those who supported Numsa's removal from Cosatu and Numsa itself say they support the NDR - Numsa complains it is 'not on track' while its opponents say...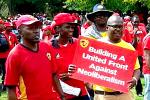 Jane Duncan - The country's largest trade union federation, the Congress of South African Trade Unions (Cosatu), has expelled the National Union of Metalworkers' of South Africa (Numsa), for not supporting the African National Congress (ANC). Anyone in South Africa who doesn't know this news must have been living under a rock for the past week. Numsa has been exploring political alternatives for the past year. In its December 2013 congress, it decided to launch a United Front to...
Richard Pithouse - When the ANC raised Jacob Zuma above the rule of law and the scrutiny of parliament they repeated, on live television, an aspect of the logic with which the subaltern classes are routinely governed. The democratic rights that have been enjoyed by the middle classes over the last twenty years are frequently denied to people who inhabit zones, like the former Bantustan or the urban shack settlement, where different rules apply. In these zones, despotic forms of power are not uncommon....
Dale T. McKinley - The South African National Defence Force (SANDF) is drowning in a sea of mismanagement, corruption, political manipulation and strategic myopia. While this state of affairs will probably not result in an imminent 'attack' on the Union Buildings, as was the case in 2009 when justifiably angry rank-and-file soldiers protested over conditions of service, the ongoing fallout is much worse. It's hard to know where to begin but let's start with the basics....
Richard Pithouse - From our increasingly riotous streets to our ever more fractious parliament, it is undeniably clear that South Africa is not a country at ease with itself. And, as the language of those who come out to defend Jacob Zuma and what has become of the ANC grows more hysterical and sets itself against imagined 'agents', 'criminals', 'Satanists' and 'Nazis', the weakness and panic at the heart of the Zuma project becomes increasingly evident. What were...