The World
SACSIS seeks to examine global issues, particularly as they relate to South Africa.
Kristen Gwynnne - Thanks to the drug war, police have much more incentive to go after drug crimes than more heinous crimes. Earlier this year, men wearing black ski masks whipped out their guns and raided the home of 62-year-old Cathy Jordan, a medical marijuana patient and activist in Florida. They seized 23 of her plants, two of which were mature enough to be used for her medicine. Police officers with the Manatee County Sheriff's Department, the team of armed men, made no arrests, but later charged...
Chris Hedges - LONDON—A tiny tip of the vast subterranean network of governmental and intelligence agencies from around the world dedicated to destroying WikiLeaks and arresting its founder, Julian Assange, appears outside the red-brick building on Hans Crescent Street that houses the Ecuadorean Embassy. Assange, the world's best-known political refugee, has been in the embassy since he was offered sanctuary there last June. British police in black Kevlar vests are perched night and day on the...
Alexander O'Riordan - On April 30th 2013, the Mail and Guardian reported that the United Kingdom will phase out aid to South Africa. While the press has implied that the cuts are due to budget reasons, this is not at all the case. When David Cameron was elected to power he was elected partly on the promise that he would cut spending in every government department except aid, education and health care. In keeping with his commitments, just over six months ago Prime Minister Cameron pledged to increase the...
Chip Berlet - If we want to understand the genesis of much Islamic terrorism by a small handful of Muslims, a speculative tour of their apocalyptic worldview may help us design a more effective response. Walk a mile in the shoes of those who claim to honor God and yet cheer the bombing of the Boston Marathon. They represent only a tiny fraction of the Muslims on our planet, yet they see themselves as carrying out the will of God. Fanatics such as these can be found in many of the World's...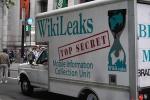 Alex Kane - WikiLeaks strikes again. The whistleblowing website has released 1.7 million cables dating from 1973-1976 that shine a bright light on US foreign policy. WikiLeaks says the documents were obtained from Freedom of Information requests and the State Department's "systematic declassification review." WikiLeaks is calling it the Public Library of US Diplomacy. The organization has now published the cables on their website in a searchable format, saying it is "the...
Norman Solomon - The Nobel Peace Prize that President Obama received 40 months ago has emerged as the most appalling Orwellian award of this century. No, war is not peace. George Carlin used to riff about oxymorons like "jumbo shrimp," "genuine imitation," "political science" and "military intelligence." But humor is of the gallows sort when we consider the absurdity and tragedy of the world's most important peace prize honoring the world's top...