Human Rights
SACSIS embraces a rights based approach to development, which views poverty as a denial of human rights.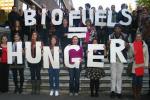 Glenn Ashton - Food prices are rapidly heading toward new record territory, with far more at play than a simple drought in the US Midwest. There are serious implications, especially for nations with high rates of inequality and poverty. We will almost certainly face a potentially catastrophic, global scale famine in the next couple of decades. The main reason there are now over seven billion people on earth is largely due to the emergence of two separate technologies. Firstly, cheap fossil fuels have...
Gillian Schutte - "Africa your silence is loud! Speak out against patriarchy, homophobia and transphobia." So reads one of the many sloganed T-shirts worn by LGBTI rights protestors at the "Say No to Hate Crimes" picket at the Library Gardens yesterday. Other's read: "My Sexuality, My Choice", "Phansi Holomisa!" and "Zuma – your silence is killing our brothers." The gardens are decorated with bright pink hard hats and gay...
Anna Majavu - Increased police brutality and the prospect of conservative politicians using public money to sue and bankrupt organizations they ideologically oppose - these are the likely outcomes of last week's Constitutional Court judgment against protest organisers. In a judgment which upheld a repressive clause in the apartheid-era 1993 Regulation of Gatherings Act, Chief Justice Mogoeng Mogoeng ruled that members of the public who suffer damages from protestors have the right to recoup their...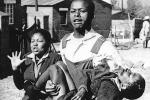 Jane Duncan - It was June 16, 1992. A number of us had been to hand out pamphlets at a rally to commemorate the events of the day in 1976, as we generally did on that day. I returned home in the afternoon, and decided to phone my mother to discuss a favour I needed to ask of her. I phoned her at 3.30pm, when I knew she would be home. She did not answer the phone. I tried several times after that, and still she didn't answer. A small voice in my head told me that something was wrong, as her...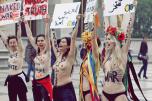 Gillian Schutte - In April 2009 women stripped half naked and took to the streets of Ado-Ekiti (Nigeria) to protest the rerun governorship election. Protesting under the title "Peace rally in support of democracy in Nigeria," the protesters gathered under the auspices of Ekiti Women for Peace and Development. Led by a former Commissioner for Women Affairs in the state, Chief Ronke Okusanya, more than 300 women, comprising the young and the elderly, took part in the protest over the delay in...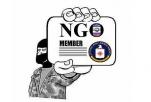 Jenny O'Connor - In December Egyptian prosecutors and police raided 17 offices of 10 groups identifying themselves as "pro-democracy" NGOs, including 4 US based agencies. Fourty three people, including 16 US citizens, were accused of failing to register with the government and financing the April 6th protest movement with illicit funds in a manner that detracted from the sovereignty of the Egyptian state. The US applied massive pressure on Egypt to drop the case, sending high-level officials to...