Human Rights
SACSIS embraces a rights based approach to development, which views poverty as a denial of human rights.
Jane Duncan - Many South Africans have decried the recent, terrible cases of rape. South Africa's pervasive culture of hyper-masculinity has been blamed for the problem, as has the patriarchal nature of its society, where men remain the central figures around which society is organised in spite of the country's constitutionally enshrined commitment to gender equality. But are these explanations adequate? Radical feminists tend to blame the problem on the continued existence of patriarchy,...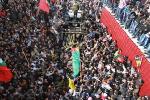 Heidi-Jane Esakov - Mido Macia, a 27-year-old Mozambican immigrant to South Africa was found dead in his police cell in Daveyton, east of Johannesburg, on 26 February 2013. In a brutal scene captured on film by onlookers, Macia, with hands bound and tied to the back of a police van, was dragged 500 metres by police officers. His torture continued in a police cell with allegations of brutal beatings. His crime: blocking traffic and resisting arrest. Three days before that, on 23 February, 30-year-old Arafat...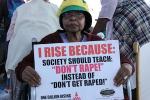 Gillian Schutte - Women's bodies have been the locale of war since the inception of patriarchy - a misogynistic trend that saw the female body become the site of restraint, control and oppression. Thus the female body has largely become a meme of violence, suffering and exploitation rather than joy, pleasure and autonomy. Much of this violence is centred on the vagina from which all human life is conceived. Rape is an excruciatingly cruel male practice fuelled by a horrible concoction of masculine...
Jane Duncan - At the end of January, an all too familiar pattern of events played itself out in the Pinetown Magistrate's Court in Durban. Four member of the shack dwellers' movement, Abahlali baseMjondolo, were arrested after a protest against problematic practices in a housing development in KwaNdengezi. They were accused of public violence, robbery, damage to property, and assault with intent to do grievous bodily harm. Charges were withdrawn against three in court, with the exception of...
Richard Pithouse - In December last year Jyoti Singh Pandey, a student on the cusp of her adult life, stepped into a bus in Delhi. She was with a friend. They had been to see the film version of the Life of Pi and were on the way home. And then, without warning, their passage through the night suddenly dropped out of the flow of ordinary life and into hell. The bus went off the expected route, the doors were closed and Jyoti's friend was beaten unconscious by the six men in the bus. In what sounds like...
Anna Majavu - A recent Supreme Court of Appeal judgment has undermined the plight of incest victims who keep quiet about their ordeals after being threatened with death or given tokens by their abusive father figures. In this recent judgment, Supreme Court of appeal judge Jeremiah Shongwe - with judges Lex Mpati, Carole Lewis, Belinda van Heerden and Nathan Erasmus concurring - reduced a rapist's life sentence to 15 years. The Limpopo High Court had earlier sentenced Edson Ndou to the mandatory...