Keyword: housing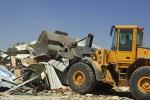 Gillian Schutte - It was with sheer terror that we witnessed the grotesque spectacle of the bulldozing of fully built brick and mortar houses in Lenasia by government officials last week. Images of desperate women being pulled out of their houses and attempting to stop bulldozers from demolishing their lives haunt our recent memories. This was reminiscent of the forced removals of yesteryear when fully settled communities were forced out of their homes by a draconian apartheid government. What could prompt...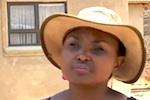 Nonhlanhla Pholo explains how she bought her land in Lenasia, in what she thought was a legitimate deal through a housing department agent. Now her home is earmarked for demolition by the Johannesburg Department of Housing. She feels victimized twice over, as she has already had to rebuild her house after a developer scammed her by building a house that was not passed by building inspectors. All her savings are invested in her new home and she is in danger of losing everything. ©...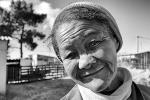 Anna Majavu - The "overwhelming adversity" they had to face daily as a result of living in an informal dwelling felt "like a mountain fell on me", said one Cape Town resident. Politicians from across the spectrum have lied to the public for years about their plans to "eradicate", "upgrade" and "transform" informal settlements. They have forced communities out of informal settlements into equally horrible transit camps or temporary relocation...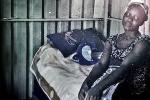 Anna Majavu - Last week at Lonmin mines, the ANC saw the consequences of allowing South Africa to remain one of the most unequal countries in the world. The steadfast refusal of the mineworkers to continue their dangerous work without a substantial pay increase, and the consequent massacre of the workers by police are just the start of what is yet to come. The police killings appear to have sparked a level of outrage amongst the Black poor and working class that could prove to be a tipping point. For...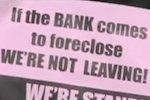 In New York, Occupy Wass Street (OWS) is shifting its focus away from occupying parks and squares to other actions, such as occupying homes, and has specifically launched an "Occupy Our Homes" campaign. In December 2011, activists carried out a nationwide day of action to reclaim foreclosed homes from bailed-out banks and move homeless families into them. In Brooklyn, New York, an occupation of a home has entered its second month. Members of the OWS movement defend the...
Richard Pithouse - Tokyo Sexwale recently announced, in Brandfort, in a performance carefully choreographed to be rich with the symbolism of a once insurgent nationalism, that Winnie Mandikizela-Mandela will lead a new government task team on informal settlements. "She will", he said, "help us develop informal settlements because we cannot solve it without the Winnie Madikizela-Mandela motherly heart." In the national imagination Brandfort is the feminine version of Robben Island, a...