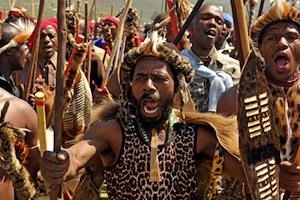 Picture: A cleansing and healing ceremony attended by Jacob Zuma in November 2010 courtesy GovernmentZA/Flickr.
President Zuma has called for a national cleansing ceremony in order to restore moral values. But what is the real meaning of this 'morality'?

Does he intend to stamp out corruption and promote non-sexism? Is he going to defend the values enshrined in our constitution? Or is he urging young people to respect their elders and exhorting women to get married before they have children?

In a nation comprised of many cultures, each subject to the pressures which accompany rapid modernisation, are we each subject to identical moral codes? And if not, whose morality is Zuma talking about?

Remember the original Moral Regeneration Movement (MRM), which was politically initiated and headed by Zuma? The generic Moral Charter compiled by the MRM may have value but just how accessible, relevant or understood has it ever been? The problems the MRM was meant to address continue, unabated. The MRM remains marginalised, virtually silent on critical issues.

Powerful arguments can and have been made that Zuma is too deeply tainted to provide moral leadership. There are questions about his dalliance with the daughter of a friend, who additionally happened to be HIV positive – while he was the political figurehead of the MRM.

Can a man married to several wives claim to be moral when risking the health of his chosen partners? A single lapse may be excusable – we are humans after all. Unfortunately this was not the case. After having sexual relations with a friend of his daughter, he impregnated the daughter of a friend. He allegedly has other children outside wedlock.

This behaviour is inconsistent with appeals for morality. Jonathan Jansen, Rector of the University of the Free State warned school learners not to act like Zuma. He said "the most important people in the country do not know how to keep their zips up." As Patricia De Lille said, Zuma is all about do as I say, not as I do, an unlikely occupant of any moral high-ground.

The racial aspect of Zuma's recent comments to a traditional audience about black people copying white peoples' habits with their hair styles and dogs attracted far more attention than the far more important sub-text. In reality his speech was premised on dangerously self-serving political statements in the crude language of asserting the dominance of traditionalist over modern moral values.

His apparent preoccupation with morality has little to do with defending the fundamental constitutional values of freedom of expression and tolerance. While ostensibly talking about morality, this is not about mental liberation as claimed by his spin doctors. Instead Zuma's statements perpetuate a traditionalist patriarchal social discourse seeking to reinforce his hold on power.

More worrying still are the lingering allegations of corruption which remain unresolved because of legal and political stonewalling. Despite this Zuma's supporters appear to regard his behaviour as acceptable.

Similar moral disconnects exist in the misbehaviour of the disgraced ANC youth league leader Julius Malema's tenderpreneurial tendencies. They exist in the Womens' League decrying the president's sexual shenanigans while endorsing him as leader. They exist in the ruling party electing as deputy president the head of a mining house who failed to meaningfully deal with a labour dispute, who is instead accused of supporting police intervention against his employees.

Can all of these logical inconsistencies be explained away by insisting that moral absolutes cannot exist? Do western moral values have no place in South Africa? Or can we pick and choose our morals, copying our leadership in a lassiez faire version of post modern reality?

Our leadership has made anything excusable in a given context. Perhaps our problems are still the faults of apartheid as claimed? Or perhaps this is just the South African way of failing to take responsibility and blaming everyone else for our problems? Where is the morality in that?

Calls for moral leadership and the burgeoning of African intellectualism are eroded by these attitudes. When Xolela Mangcu or Mamphele Ramphele speak out against the excesses of our present leadership they are shouted down as unrepresentative or worse. Archbishop Emeritus Desmond Tutu and other spiritual leaders remain fearlessly unswerving in his criticism of self-serving powerful elites, repeatedly appealing for real moral leadership.

Steve Biko provided relevance and inclusivity when he wrote, "As a prelude whites must be made to realize that they are only human, not superior. Same with blacks. They must be made to realize that they are also human, not inferior." This appeal to humanism is central to the foundation of a collective ethic, of Ubuntu. It is at odds with traditionalist exceptionalism dressed up as morality.

One side may argue the state is the arbiter of morals through regulation, the other that morals and ethics have no place in a selfish, narcissistic world, informed by libertarian rationality. Such self-centeredness inevitably fosters inequality. Post-modern thinking just muddies the water as questions around individual free will and morality influence our personal decisions.

While we cannot ignore post-modern realities, neither can we ignore the ancient wisdom of cultural values. Simphiwe Sesanti holds that contemporary African leaders sometimes make up 'traditional' values to suit their own ends and that, in fact, the original traditions did not oppress, for instance, women. He reminds us that Africans cannot accept the abuse of the concepts of Ubuntu to serve narrow ends.

Perhaps the real cleansing we need is to replace immoral, opportunistic figureheads with more acceptable alternatives. We are fortunate in that we have many to draw on, from Nelson Mandela and Graca Machel, to Archbishop Tutu. Other intellectual giants like Jonathan Jansen and Pumla Gobodo-Madikizela are joined by a cast of thousands. Can we willingly accept Zuma's leadership against such models of moral rectitude?

Could we not simplify our moral regeneration by focussing on a single concept? How about establishing common moral foundations in fundamental concepts, such as of doing to others as you would have them do to you? This relates directly to the African concept of Ubuntu – we are all in this together, reliant on one other.

The bottom line is that if we are to initiate a national a moral regeneration, there is no place for ambiguity and deceit. As the saying goes; bad company corrupts good morals.