Keyword: Noam Chomsky
Democracy Now - In an exclusive interview, Democracy Now speaks with world-renowned political dissident and linguist Noam Chomsky about the release of more than 250,000 secret U.S. State Department cables by WikiLeaks. In 1971, Chomsky helped government whistleblower Daniel Ellsberg release the Pentagon Papers, a top-secret internal U.S. account of the Vietnam War. Commenting on the revelations that several Arab leaders are urging the United States to attack Iran, Chomsky says, "latest polls show Arab...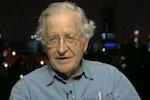 Jewish-American intellectual, Noam Chomsky, professor of linguistics and philosophy at the Massachusetts Institute of Technology, was denied entry into Israel on Sunday. Chomsky was due to deliver a lecture at Bir Zeit University near Ramallah. Chomsky's lecture would have covered American foreign and domestic policy. He spoke with Al Jazeera about the reasons Israel denied him entry. In his words, there were two reasons: 1) "The government of Israel does not like the kind of...
Noam Chomsky recently delivered the 5th annual Edward Said Lecture at Columbia University. According to Chomsky, Said's greatest achievement as a literary critic was to put imperialism at the centre of western civilization. Said comprehensively uncovered and explored the different manifestations and impact of imperialism. Chomsky's lecture highlights events that opened the way to the famous unipolar moment that led to unchallenged US global hegemony 20 years ago -- the fall of the...
MIT professor, author and dissident intellectual Noam Chomsky, spoke at the Riverside Church in Harlem on June 12, 2009 at an event sponsored by the Brecht Forum. More than 2,000 people packed into the Church to hear his address, titled "Crisis and Hope: Theirs and Ours." In his talk, Chomsky discussed the global economic crisis, the environment, wars in Iraq, Afghanistan and Pakistan, resistance to American empire and much more. Democracy Now recorded the event on camera...
There's been an outcry in America about the financial rescue plan unveiled by the Obama administration under the leadership of Treasury Secretary, Timothy Geithner. The Obama administration plans to buy up $2 trillion in toxic financial assets. The plan is being denounced by economists in the mainstream press, as well as commentators in the alternative media. Pepe Escobar also provides excellent commentary of Geithner's PPPIP (Public-Private Partnership Investment Programme), which he refers...
Democracy Now - JUAN GONZALEZ: President Obama has made his first substantive remarks on the crisis in Gaza since being elected. Obama was speaking at the State Department, flanked by Secretary of State Hillary Clinton, as he named two key envoys. Retired Senate majority leader George Mitchell, who negotiated a lasting agreement in Northern Ireland, will be Middle East envoy. And Richard Holbrooke, who brokered a deal in the Balkans in the mid-1990s, will be envoy to Afghanistan and Pakistan. In his...