Keyword: Noam Chomsky

While Julian Assange awaits news of his fate at the Ecuadorian embassy in London, which he entered a week ago when he applied for political asylum, RT airs the final episode of his pre-recorded talk show, "The World Tomorrow". This final episode profiles intellectual giants Noam Chomsky and Tariq Ali who talk about wide ranging issues, including the Arab drive for freedom, the West's structural crisis and new hope coming from Latin America. According to Ali, "Essentially...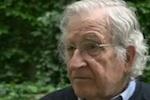 Amy Good man of Democracy Now! talks to world-renowned political dissident, linguist and author Noam Chomsky about the Palestinian hunger strike. A tentative deal has reportedly been reached to end a landmark action that's seen more than 2,000 jailed Palestinians go without food to pressure Israeli prison authorities to end the use of solitary confinement and ease a wide range of restrictions. "The hunger strikes are a protest against ... violations of the elementary human...

Laura Flanders of GRITtv sat down with professor and author, Noam Chomsky, to discuss his latest publication, OCCUPY, published in the Occupy Media Pamphlet Series by Zuccotti Park Press. During the interview, Chomsky talks about anarchism, racism, corporate power, the media and what it might be like to live in a non-market system. "The US and Europe are committing suicide in different ways," says Chomsky. "In Europe it's austerity in the midst of recession and...
Noam Chomsky - Part One Significant anniversaries are solemnly commemorated -- Japan's attack on the U.S. naval base at Pearl Harbor, for example. Others are ignored, and we can often learn valuable lessons from them about what is likely to lie ahead. Right now, in fact. At the moment, we are failing to commemorate the 50th anniversary of President John F. Kennedy's decision to launch the most destructive and murderous act of aggression of the post-World War II period: the...
Noam Chomsky - We are approaching the 10th anniversary of the horrendous atrocities of September 11, 2001, which, it is commonly held, changed the world. On May 1st, the presumed mastermind of the crime, Osama bin Laden, was assassinated in Pakistan by a team of elite US commandos, Navy SEALs, after he was captured, unarmed and undefended, in Operation Geronimo. A number of analysts have observed that although bin Laden was finally killed, he won some major successes in his war against the U.S. "He...
Noam Chomsky - After the assassination of bin Laden I received such a deluge of requests for comment that I was unable to respond individually, and on May 4 and later I sent an unedited form response instead, not intending for it to be posted, and expecting to write it up more fully and carefully later on. But it was posted, then circulated. That was followed but a deluge of reactions from all over the world. It is far from a scientific sample of course, but nevertheless, the tendencies may be of some...