Keyword: Steve Biko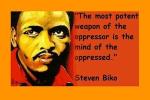 Mandisi Majavu - Although recent newspaper reports that the Azanian People's Organisation (Azapo) and the Socialist Party of Azania (Sopa) are to merge ought to be welcomed by those of Black Consciousness (BC) tradition, the fact of the matter is that the BC tradition in South Africa is intellectually stuck in the 20th century. According to the Unemployed People's Movement (UPM), proponents of the BC tradition have not been able to rethink BC politics for a new situation. The new situation being...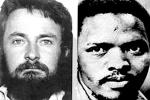 Richard Pithouse - And then, despite the fear, I set off I put my cheek against death's cheek − Roberto Bolaño, 'Self Portrait at Twenty Years', The Romantic Dogs, 2006 On the 26th of September1940 Walter Benjamin – a brilliant writer struggling to the point of being short of paper, an intellectual acutely attuned to the poetic, Jewish and, in his own way, communist – found himself, for the second time in his life, in desperate flight from fascism. On the border between Spain and...
Liepollo Pheko - "History will be kind to me for I intend to write it," Winston Churchill said during World War II. A few weeks ago, the orgy of grief that accompanied the commemoration of 9/11 in the United States was televised across our television screens. It was replete with scenes of the fallen men and women and their grieving families and compatriots. It was human and dignified and even those of us who reject the ensuing War on Terror could understand and share in that loss and the grief....

American, author, poet and activist, Alice Walker delivered the 11th Annual Steve Biko Lecture at the University of Cape Town on 13 September 2010. In her speech reflecting on South Africa, Walker said, "I have seen the hovels, the shacks, the unpaved roads, the unkempt children on one side of Johannesburg, and the mansions with the highest walls I have ever seen around dwellings on another. What to make of this? What to make of the words of your Constitution, in which you profess...