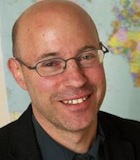 Jonny Steinberg is a South African writer and scholar. He is has a doctorate in political theory from the University of Oxford, where he was a Rhodes Scholar. He is currently a lecturer in African Studies at the University of Oxford. He is the author of several books. Two of them,
Midlands
(2002), about the murder of a white South African farmer, and
The Number
(2004), a biography of a prison gangster, won South Africa's premier non-fiction award, the Sunday Times Alan Paton Award. Steinberg's books also include
Three-Letter Plague
, which chronicles a young man's journey through South Africa's AIDS pandemic. It was a Washington Post Book of the Year. Steinberg is also the author of
Thin Blue
(2008), an exploration of the unwritten rules of engagement between South African civilians and police, and Little Liberia: An African Odyssey in New York, about the Liberian civil war and its aftermath in an exile community in New York.