Keyword: Julian Assange

"Is an honest Fourth Estate the only Force than can restore peace and balance to the Galaxy?" ask Juice Rap News, as they caricature the Julian Assange extradition case in this Star Wars spoof. Juice Rap News consults two of journalism's most influential and inflammatory figures: Rebel journalist, enfant terrible, Julian Assange, who could soon be 'Sextradited' to Sweden. And, on the opposite end of the journalistic spectrum, Rupert Murdoch, head of the mighty NewsCorp...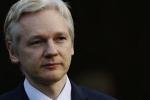 Fazila Farouk - "We don't just have a global financial crisis, we have a global political crisis," said Alexa O'Brien from the Occupy New York movement on Julian Assange's talk show, The World Tomorrow, which aired this week on Russia Today just a day before the British Supreme Court upheld an earlier decision by the High Court for Assange to be extradited to Sweden to face questioning for alleged sex crimes. O' Brien's words have been uncannily prophetic in framing the...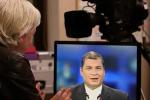 Julian Assange talks to the President of Ecuador, Rafael Correa. Correa is a left wing populist who has changed the face of Ecuador. Unlike his predecessors, he holds a Ph.D. in economics. According to US embassy cables, Correa is the most popular President in Ecuador's democratic history. But in 2010 he was taken hostage in an attempted coup d'etat. He blames the coup attempt on corrupt media and has launched a controversial counter-offensive. Correa says the media defines what reforms are...

Embattled WikiLeaks founder, Julian Assange's much touted talk show, "The World Tomorrow", aired its second episode this week on RT. Assange interviews Slovenian philosopher, Slavoj Zizek, a former anti-communist dissident who's now turned communist and David Horowitz, a former radical activist and Black Panther ally, who has now become a fiery right-wing Zionist. In a heated debate, they talk about the future of Europe and the US, as well as touch on the issue of...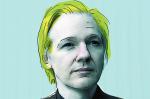 Julianne Escobedo Shepherd - The weird tale of Julian Assange just got weirder: the WikiLeaks founder appears in cartoon form on the 500th episode of "The Simpsons". According to reports, Assange recorded his voiceovers from "a secret location" over the summer, although since he is currently on house arrest in a British mansion, it's not hard to imagine that said location was the horse stable (or the panic room). The Simpsons has been running since 1989, the longest-airing scripted...
John Pilger - The High Court in London will soon decide whether Julian Assange is to be extradited to Sweden to face allegations of sexual misconduct. At the appeal hearing in July, Ben Emmerson, Queen's counsel for the defense, described the whole saga as "crazy." Sweden's chief prosecutor had dismissed the original arrest warrant, saying there was no case for Assange to answer. Both the women involved said they had consented to have sex. On the facts alleged, no crime would have been committed...