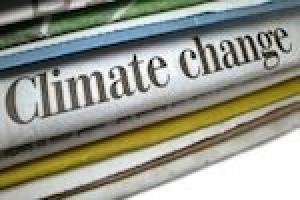 Picture: Cosmos Magazine
The United Nations Climate Conference 2011, COP17, kicks off on Monday, November, 28 in Durban when negotiators from nation states around the world will descend on the city to try and hammer out a global agreement to reduce global warming and bring climate change under control.

The parameters of that global agreement are vitally important as a public interest issue because it affects not just environmental policy, but economic and industrial development policy too, with further implications for social policies.

Thus, how the South African media has positioned the climate change debate with respect to COP17 is an issue of vital importance to the public interest and from the perspective of the South African Civil Society Information Service (SACSIS), how the media has engaged with climate change with respect to its impact and consequences for the most vulnerable members of our society, the poor, is an issue that we are very concerned about.

With this in mind, SACSIS partnered with the Friedrich Ebert Foundation (FES) in South Africa to host a roundtable discussion on "The Media and Climate Change." The purpose of the event was to interrogate how the South African media is reporting on climate change in the run up to COP17.

We were particularly interested in the media's messaging in the run up to this important event, so we invited some senior editors from the print media to come and talk to a grouping of largely civil society activists about how they view and report on climate change.

Keynote speakers at the event included, Brendan Boyle (Editor, Daily Dispatch), Sue Blaine (Environment and Development Editor, Business Day), Prof. Herman Wasserman, (Deputy Head of the School of Journalism and Media Studies at Rhodes University), Bobby Peek (Director, Groundwork) and Saliem Fakier (Head of the Living Planet Unit at the World Wildlife Fund and SACSIS columnist).

Media representatives kicked off the discussion with inputs about how they understood the crisis of climate change, sharing important information, which demonstrated to environmental activists in the room that the media most certainly have taken the crisis of climate change on board as an important issue.

For example, Boyle argued that that climate change is the next global catastrophe. For her part, Blaine admirably argued that climate denialists should not be given a platform in news stories.

There certainly was little disagreement in the room about the fact that climate change was an important topic to be reported on. Where differences did emerge, however, was on "how" the media reports on climate change.

For example, both Boyle and Blaine upheld the principle of media neutrality. Boyle argued that from a media perspective, he would not want to take positions on climate change. He would rather "tell the story and let the positions emerge." Blaine agreed with him, arguing that the media should not have biases or "punt an agenda."

However, civil society activists pushed back on this point, arguing strongly that media neutrality does a disservice to the climate change agenda, especially as it affects poor people who have little chance of influencing climate reporting in sharp contrast to big companies with well resourced media and communications teams.

This point was particularly pertinent in relation to the introduction of false climate solutions that serve special interest groups who tend to be powerful, either politically or financially. As environmental activist Rehana Dada pointed out, why isn't the media critically engaging with the issue of carbon trading? Is it really reducing emissions?

Similarly, the concept of the commodification of natural resources is not interrogated by the media, argued SACSIS columnist, Michelle Pressend, who said she gets the sense that the media thinks its "okay to privatize the air and forests."

One of the main points highlighted by Boyle in terms of how to increase the general public's awareness of and interest in climate change was to "make the story of climate change about me."

In this regard, climate activists also challenged media representatives arguing that newspapers speak to very specific audiences. For example, Business Day's audience is business, while the average English language newspaper in South Africa targets a middle class audience.

As the poor are most affected by climate change, this argument held little weight among the activists in the room. Clearly in telling the story about "me," the story of the poor is not being told.

In this regard, Bandile Mdlalose of Abahlali baseMjondolo (The South African Shack Dwellers Movement) argued that the media should go directly to poor communities to find out first-hand how climate change affects the poor. Often the media tends to report on official positions and perspectives from government, which also tend to promote government's so-called green agenda. However, the media don't report on the "actual environments" that poor people are forced to live in, thus only telling half the story, she argued.

And, as Mohamed Motala, executive director of the Community Agency for Social Enquiry (CASE) pointed out, the cross cutting issues of gender, race, class and inequality rarely, if ever, get examined in climate reporting by the mainstream media.

Importantly, SACSIS columnist, Dr. Dale McKinley argued about the significance of talking about "climate justice" as opposed to "climate change" because this makes it a political economy issue.

Finally, in terms of a focused academic analysis of the media's coverage of climate change in South Africa. Prof. Wasserman said that there was consensus that the media's coverage of climate change in South Africa "is not quite commensurate with the scale and impact of the crisis." Wasserman highlighted three critical shortcomings in the media's reporting of climate change.

Firstly, he said that the frequency of climate change reporting is inconsistent. It tends to peak at times, but then dies down, clearly demonstrating that there is no mainstreaming of the issue.

Secondly, in terms of the prominence of climate change reporting, he said that it often appears as a special feature or supplement in newspapers. Thus, climate change is not something that forms a dimension of news coverage in general.

Thirdly, Wasserman reflected on the tone of climate reporting, arguing that it is often reported within a political context, for example, "as a stick to beat politicians with or in terms of it being an apocalyptic sensation."

There was plenty more discussion and debate at the SACSIS/FES roundtable on "The Media and Climate Change." Do follow the links below; they will take you to video clips of individual inputs from speakers and participants at the event.
Brendan Boyle (Editor, Daily Dispatch): We need to Make the Story of Climate Change about "Me"
Sue Blaine (Business Day): Climate Change Has Arrived at a Time When Fundamental Global Changes are Taking Place
Herman Wasserman (Rhodes University): The South African Media's Coverage of Climate Change Is Not Quite Commensurate with the Scale and Impact of the Crisis
Bobby Peek (Director, Groundwork): Climate Change is an Energy Debate
Saliem Fakir (World Wildlife Fund/SACSIS): Talking about Climate Change Is Like Having a Conversation about Aliens
Rehana Dada (environmental activist): It's Really Critical To Be Talking about Climate Adaptation
Bandile Mdlalose (Abahlali baseMjondolo): We need to Simplify Language of Climate Change and Link It with Struggles of the Poor
Nawaal Domingo (South Durban Community Environmental Alliance): Media Needs to Find Right Balance in Climate Reporting
Dr. Dale McKinley (social justice activist/SACSIS): We Should be Talking about Climate Justice, Not Climate Change
Michelle Pressend (environmental activist/SACSIS): Mainstream Media Misses Debate on Commodification of Natural Resources
Glenn Ashton (environmental activist/SACSIS): Business Media in South Africa have Not Picked Up on Climate Adaptation
Mohamed Motala (Director, Community Agency for Social Enquiry): What Does Civil Society Have to Do to Make Journalists Uncomfortable Enough to Report on an Issue?
Mark Allix (Business Day/SACSIS): How Do We Reconcile the Contradictions between the Social Economy and Economic Development with Respect to Climate Change?
William Gumede (WITS/SACSIS): Climate Change Is about Bread and Butter Issues
Olivier Serrao (Friedrich Ebert Stiftung): What the Friedrich Ebert Foundation is about in South Africa
Fazila Farouk (executive director, SACSIS): The Poor are Disproportionately Affected by Climate Change