Keyword: journalism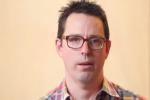 A few months ago, British financial journalist, Felix Salmon served up some career advice to aspiring journalists and the long and short of it was: don't bother. The mock letter made the rounds online and created a healthy debate, so Al Jazeera's Listening Post decided to get him in front of a camera to deliver his "advice" on screen. Today is a wonderful time for journalism, argues Salmon, who is constantly astonished by the quantity and quality of the martial being produced...


The Internet and social media have accelerated the pace of news consumption and readers have grown addicted to news snacking. The situation has reached crisis proportions with journalists themselves relying on social media and often getting facts wrong in their haste to release stories. A counter movement, the slow journalism movement, has hit the breaks to preserve the true essence of journalism. With names such as Delayed Gratification, Long Play and Retro Report, these publications are...
Jane Duncan - We warned you! Business journalist Rob Rose made this claim recently about the media's reporting on the collapse of African Bank Investment Limited (ABIL). He argued that the business press locally and globally have been "calling it right for ages" when it came to the financial crisis that swept the world from 2008 onwards. Rose also took issue with economist Trudi Makhaya's recent warning that South Africa lacked meaningful economics journalism. He disagreed with...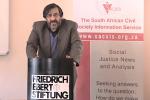 In late July 2014 SACSIS hosted a reflection workshop for our team of writers. Prof. Steven Friedman, Director of the Centre for the Study of Democracy at the University of Johannesburg, was asked to initiate the discussion with a lecture on the question: "What is the role of the social justice commentator in public interest journalism?" Friedman framed his address around the question, "How do ideas change society?" His key argument was that change is a complex and...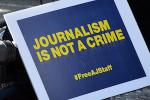 An Egyptian court has sentenced three Al Jazeera journalists to between seven and 10 years in prison on terrorism charges, including "spreading false news" in support of the Muslim Brotherhood, deemed by the government a "terrorist group." Peter Greste, Mohamed Fahmy and Baher Mohamed have been jailed since December in a case that's stoked international outrage. The sentence came down one day after U.S. Secretary of State John Kerry visited Cairo to meet with...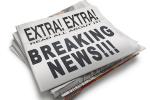 For many people these days, the last thing you look at before you go to bed is news headlines and the first thing you look at when you wake up the next morning is the news. Meanwhile during the day, people are constantly checking up on the news. What are people expecting to discover with this constant interest in the news? Would we be happier turning away from the news or do we have an obligation to keep up with what transpires around us? For a fascinating and quite funny talk on the...