Keyword: COP 17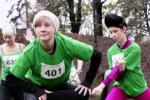 On the first day of the U.N. Climate Meeting in Warsaw, young people from around the world joined with the newly formed Polish Youth Climate Network to release a climate video mocking the coal industry and promoting a clean energy future. The title of the video, "Race for Energy Independence," is a play on the Race for Independence, a running race that takes place on November 11 in Warsaw every year to commemorate Polish independence. In the video, young people compete in a...
Glenn Ashton - This week the latest round of climate negotiations, the 19th Conference of the Parties (COP19) is meeting in Warsaw Poland, to grapple with the stalled Climate Change Convention. At the opening of the conference Dr Alicia Illinga, a Filipina delegate highlighted how her country had already been hit by 22 typhoons this year. The devastating Typhoon Haiyan, the most powerful typhoon to have ever made landfall, hit the Philippines on the eve of the conference, causing thousands of fatalities and...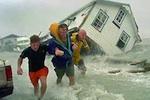 The UN Climate Conference, COP 18, gets underway this week in Doha, as the Kyoto Protocol winds down and is set to expire by the end of this year. COP 18 is unlikely to emerge with a suitable replacement for Kyoto, as yearly climate talks grind on and disagreements about emissions reductions continue to foil any meaningful agreement that would halt global warming. Kyoto set binding targets for industrialised countries to reduce greenhouse gas emissions by an average of 5% against 1990...
Saliem Fakir - Fourteen days of climate change negotiations started off with much scepticism and ended with a sense of despair despite the COP 17 outcome being declared "landmark" and "historic". COP 17 was painted, at once, as a victory for the world -- but such statements belie the real truth. The Kyoto Protocol will continue with European Union (EU) states agreeing to a second commitment period. However, what they are committing to is nothing new, as the EU has already...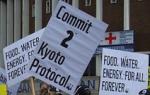 The United Nations Climate Change Conference in Durban, South Africa, has ended with an agreement to start negotiations for a new legally binding climate treaty to be decided by 2015 — and to come into force by 2020. Negotiators also agreed to a second commitment period under the Kyoto Protocol and the initial design of a Green Climate Fund. Many environmental groups say the agreement does not do enough to deal with the climate crisis. "It is really not the important milestone in...

"Is this what democracy looks like in South Africa?" an activist is heard asking, as volunteers hired by the state (wearing green tracksuits) wrench posters out of their hands at a meeting between civil society and President Jacob Zuma in Durban yesterday. In a shocking demonstration of the supression of freedom of expression in South Africa, activists were physically attacked at the meeting and some forcibly removed by the police for the perfectly legitimate act of...