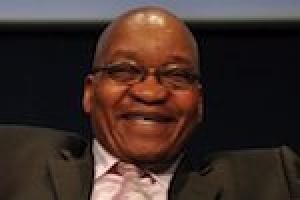 Picture: World Economic Forum
'Gedleyihlekisa' is president Jacob Zuma's middle name. It means "one who is crafty when faced with conniving people" or "one who is cunning" or even "laughing when people conspire and gang up against you."
In the last few years Zuma's political life has been predicated on a series of private issues, which have come into the public domain. His personal finances and rape trial both became the focus of national discourse sharply polarising a number of debates, including party politics in the ANC, parliamentary debate, opinions on the justice system and the women's movement. At the same time, the South African justice system has behaved more like his private security company than an objective and unassailable institution of citizen's protection.
To understand the man and his mission one must delve further than the last twelve months. In so doing, it must also be said that it's very difficult to extricate Zuma's political legacy from his tumultuous private life. Still, his name does provide some useful insights into deconstructing this dichotomy not least because, in the midst of tumult, Zuma's stock response to the nation's concerns is a fatherly smile and a chuckle.
The groundswell of people that steered Zuma through his many legal meanderings are considered to be a motley crew of wounded Thabo Mbeki grudge-holders. It follows that many of them have expectations of tangible manifestation for their support. It also follows that Zuma has the difficult task of keeping these interests aligned to him. Given that these 'interests' removed one sitting president, they have set the precedent that any infraction by Zuma could result in the same action being instituted against him. Essentially, his choices are closely linked not only to appeasing these factions, but are also about placating the forces that made the political choice to shield him from the consequences of his private life.
How does one recover from this chaos while framing pro-people policy and managing the economy effectively? How does one separate these agendas from national interests?
Zuma was carried into office on the wave of a 'Tsunami,' which prominent supporter, Zwelinzima Vavi, predicted would put him in office. However, this wave of popular support now seems to be undermined by the fundamental framing of policy within the Zuma administration. The much-vaunted left leaning support base of this government is, to date, barely articulated and any semblance of departure from the Mbeki era is superficial. Zuma clearly told the nation before his election that nothing would change. Despite this ideological 'double-crossing', Zuma is still smiling.
Why then should anyone bother to analyse him further? Well, because, despite his consensus building and prowess as a mediator, COPE still emerged on his clock. Because he is a paradox of stern moral posturing on sacrifice and compassion for the vulnerable while demonstrating reckless personal conduct. Because he appears to be an astute political survivor while looking indecisive and weak. Because he will be cutting the "20-years post apartheid birthday cake," unless, of course, the ANC does a Polokwane on him.
It was four years ago that Zuma stood trial on rape charges. This was soon after he was dismissed as deputy president of South Africa in the wake of an allegedly "generally corrupt" relationship with Schabir Shaik. The ensuing furore brought into question the sacrosanct nature of the legal system, the use of the media as political theatre, the fractured condition of the women's movement, self seeking solidarity coalitions and the chess like machinations that were configured to protect Jacob Zuma from prosecution. The ever-present backdrop to this hornet's nest is also the president's questionable and colourful private life.
Zuma has shaken off reports of cronyism and nepotism, including in the judicial machinery where new appointments have been accompanied by accusations that they are rewards for complicity in 'disappearing' Zuma's legal woes. In fact, Zuma's first year in office has borne witness to continued meddling with constitutional checks and balances. There is negligible restraint of executive power.
It's all quite a mess mirrored by divisive posturing and positioning in his cabinet.
The National Planning Commission led by Trevor Manuel has recently announced its commissioners, but, as yet, any strategic direction is unclear. The Ministry of Economic Development led by the left leaning Ebrahim Patel is embroiled in turf issues with both ministers Rob Davies and Pravin Gordhan and is scarcely audible. Although COSATU and the SACP continue to iterate their support for the government, this is also at odds with any substantive gains for workers or any evidence of new or transformative politics.
Soon after the beginning of Zuma's term, the presidency released the Medium Term Strategic Framework (MTSF), which outlined ten priority areas. Some of the more urgent priorities include a commitment to economic growth for the creation of decent work and sustainable livelihoods; economic and social infrastructure development; agrarian reform and food security; increased human resource and skills development; anti corruption and crime fighting; a people-centred developmental state; and strengthened democratic institutions.
The complete ten-point plan does read more like an attempt to bring disparate interests together. However, the recurring themes of the MTSF communicate a new kind of politics: inclusive, transparent and more accessible than the Mbeki administration, also signalling a renewed concern for the 'little guy'.
But the 'little guy' has been betrayed. Indeed, an iteration of existing social grants to 'alleviate' rather than 'eradicate' poverty has been embedded in Zuma's opening year.
Our youth (a crucial social grouping) and persons with disabilities are addressed with notable ill definition. Regrettably, Zuma has followed the trend of his predecessors by labelling women 'vulnerable' and 'marginalised' without offering a clear construction of how his government will advance their citizenship beyond the so far ineffective and tragically configured "Ministry for Women, Youth and Persons with Disabilities." A year into office, Noluthando Mayende-Sibiya, minister of the now commonly abbreviated "Women's Ministry" (indicating unmistakable bias) proclaims her support for a class of women who hardly come across as the most needy cases. Mayende-Sibiya has proposed a "Gender Equity Bill," which ostensibly seeks to accelerate the achievement of a 50:50 ratio in South Africa's boardrooms. This is not an unimportant measure, but cannot be a priority in the face of grinding poverty that confronts a million underpaid domestic workers, millions more women working in the informal sector as well as infinitely more unemployed women eking out an existence in the rural hinterland.
Of the few explicit targets set out at the outset of the Zuma Presidency, the promise to create 500,000 jobs is one of the most tangible. The promise of half a million jobs was both welcome and preposterous. The promise was made at a time when economic growth had stalled for three consecutive quarters and the US-induced economic crisis was melting the rest of the world's financial markets. South Africa lost half a million jobs during that period while the normally strong and capital-intensive sectors of manufacturing and retail performed below par. By the end of the year, Zuma claimed a 96% success rate and with that fatherly smile altered '500,00 jobs' to '480,000 job opportunities'. To date this nebulous target is undefined and remains a profoundly unsatisfying response to a nation in desperate need of answers and leadership.
While many found former president Mbeki's outward bias at times aloof and offhand, his gravitas and intent in managing various international and regional processes was apparent. In contrast, Zuma's foray into the public platform of the World Economic Forum was marked by a reference for the need to cushion citizens from the economic crisis and the protectionist measures taken by Western countries, as indicated by the failure of the Doha Round. All of this was largely obscured by questions about Zuma's views on polygamy. A recent state visit to the UK with his fifth wife was also marked by a public furore about his private life.
When young Julius Malema remarked that the youth league had bailed Zuma out during his 'marital problems', the symbiosis between Zuma's personal and public life was apparent.
Zuma has presided over a year of turmoil in the economy, uncertainty of markets, industrial action, community uprisings, increasingly obvious internal party strife and an unruly young man who promised to kill for him. At the same time, the judiciary has yet to recover from the credibility it lost trying to protect the president.
The upturn in South Africa's economy owes more to the global recovery from America's financial recklessness and renewed confidence in the retail and construction sectors than Zuma's management prowess.
Despite Zuma's oft-cited charm and consultative leadership style, millions of people are falling through the cracks of unemployment and poor service delivery, while at the same time, there is a huge amount of confusion about a man who courts Wall Street and trade unions with equal vigour.
Increasingly, the chuckle sounds nervous and the smile seems to indicate somebody who has no substantive answers. But Zuma's political survival skills should not be underestimated. He continues to laugh in the face of cunning political machinations.
Zuma has assembled a configuration of skilled people around him, which casts him as overall mediator and coordinator rather than a man at the helm of his own government. This looks indecisive and uncertain -- like a balancing act with way too many eggs. It is only a matter of time before one or more of Zuma's eggs crack. I have no idea who will be smiling or laughing then.