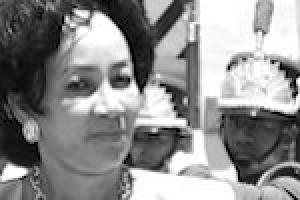 Picture: Agencia Brasil
A year into his Presidency Jacob Zuma's inability to resolve the acute tensions within the African National Congress (ANC) is painfully evident. But this does not mean that the party is drifting aimlessly. There is a clear trajectory and that course is a steady, albeit, lumbering move towards an authoritarian state driving a modernisation project via crony capitalism and the containment of the poor.
The fact that Julius Malema has had to apologise for "undermining the stature of the President of the African National Congress" and not for his vastly more alarming attack on a journalist, carried out in Luthuli House and in the name of the ANC, is a clear a sign of the party's increasing lack of commitment to basic democratic norms.
There have been many others in recent times ranging from the crude hubris of our politicians with their blue light cavalcades and brutish security guards, to the red ants beating up shack dwellers and migrants, the militarisation of an increasingly violent and often corrupt police force, impunity for certain forms of corruption and the long list of unctuous attempts at undermining the rule of law.
But Lindiwe Sisulu's determination to introduce military service is perhaps the most blatant indication yet of the authoritarian ambitions animating the ANC. National service under the control of the military is hugely attractive to authoritarian regimes for all sorts of obvious reasons that extend far beyond the appeal of having more soldiers.
It takes young people off the streets and away from their communities, socialises them to accept and to exercise the authority of the state, gives them just enough of a stake in the system to want to defend it and provides the state an unrivalled opportunity to propagandise to a captive audience at an impressionable stage in their lives. Any naivety about what Sisulu meant when she spoke, rapturously, about inculcating a "spirit of patriotism, selflessness and a love for the people of our country" should have been quickly tempered by her report that more than ten thousand soldiers were watching her budget vote live on the charmingly named Defence TV. No doubt that had been an order.
Governments are not usually open about their motivations for getting young people into the military. They generally seek justification in the name of some or other external threat. Sisulu was, incredibly, quite open about the politics of her motivation for national service. The threat that she identified was, precisely, the very people that she hopes to bring into the army. She remarked, "Any television footage of service delivery protests will show you that at the forefront of this, in great majority are our youth. With excessive anger and misdirected energy and frustration etched on their faces. We, as a country, can ill afford this. Our youth are an asset and we must direct them properly."
Her observation that young people have often played a leading role in the incredible surge in popular protest is entirely correct. But as Jacob Dlamini pointed out in Business Day "what SA can ill-afford are the arrogance and ignorance that assume that young people take part in "service delivery protests" because of excessive anger, misdirected energy and frustration."
In fact it takes a lot of initiative, careful planning, an enormous amount of hard work and, in many cases, considerable social commitment and some courage to organise a successful protest. But of course the ANC Youth League, that bastion of profound democratic sentiment, rallied behind the Minister on the grounds that "the (military) training will help to enhance levels of discipline and it will strengthen patriotism among the youth." What the cadres of the Youth League mean when they look forward to discipline and patriotism is less popular dissent unmanaged by top down party structures.
Sisulu is not unaware of the systemic and severe crisis, which many young people inhabit in our country. In the same speech she noted that "three million young people... are unemployed, presumably with no prospect whatsoever that they will be absorbed into a labour market that continues to shrink. That 50% of people in the age group 18 to 24 are unemployed."
But this crisis is hardly due to a lack of discipline and patriotism on the part of young people. On the contrary, it is a direct result of the failure of the ANC to make any remotely serious attempts at providing a decent education system and a decent economy.
Working class and poor youth have long been substantively abandoned by the state. Now that the gathering storm of popular protest has forced the ANC to recognise that this cannot continue, it has decided to move from abandonment to containment when it should be moving from abandonment to social inclusion. The money that will, if Sisulu gets her way, be spent on up to 300,000 extra soldiers a year, not to mention the five billion US dollars already spent on the World Cup, could have gone on civilian training and civilian jobs.
This is not the first time that Sisulu has played a particularly damaging role in the steady drift of the ANC towards a programme of authoritarian modernisation in favour of elites. As Minister of Housing she presided over a regime that acted in routinely illegal and often violent disregard of the law and policy in favour of an out and out attempt to expel the poor from our cities. She was also an enthusiastic proponent of the 2007 Slums Act, which sought to give legal sanction to the ongoing mass eviction and criminalisation of shack dwellers. It was overturned in the Constitutional Court.
In the hands of Jacob Zuma's ANC, 'patriotism', like 'discipline', is just a code word for popular obedience to a political authority that has, variously, abandoned, turned on and sought to contain the poor in segregated ghettos with a mixture of grants, basic services, top down political control and, where necessary, outright repression. Our development model is actively entrenching inequality as it builds stadiums and airports that look like they're from Dubai and transit camps that look like they're from a war zone.
Michael Sutcliffe, the astonishingly authoritarian manager of the eThekwini Municipality, recently, and no doubt inadvertently, got to the heart of the matter in an interview with the BBC. "We are," he said at the spectacular new stadium in Durban, "transforming this city. People will think differently about us after the World Cup. They'll see that we're not just hicks from a developing country."
Sutcliffe said nothing about who would have to be shot at, or by whom, to keep the poor from ruining this decidedly elite fantasy. As the politicians express their demand for patriotism and discipline ever more stridently in the run up to the World Cup, we need to insist that in these times virtue lies in principled rebellion and not slavish obedience to an elite that has become a threat to society.