Keyword: SACSIS TV

South Africa has made good progress on climate policy, but that could be held up by a new emerging political economy in the country that can only be described as "more coal, more nuclear, and more gas", said Saliem Fakir of the WWF at a seminar, which explored the potential for a transition to a clean energy economy. Sadly for South Africans, while there is an understanding of the level of carbon intensity in the country, we are only likely to shift towards a low carbon economy...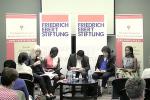 Speaking at an event to examine different ideological perspectives – left, right and centre - on building a more inclusive South African economy, Ann Bernstein of the Centre for Development and Enterprise (CDE) called for continued fiscal discipline, which she argued has been responsible for lifting millions of people out of poverty in countries like India, Brazil and South Africa. This panel discussion was co-hosted by the South African Civil Society Information Service (SACSIS)...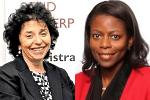 At a recent event hosted by SACSIS and the Friedrich Ebert Foundation in which we explored "left, right and centre" views on South Africa's economic development, a journalist snuck in a question about the panel's views on the Economic Freedom Fighters. It was interesting to hear what Ann Bernstein of the Centre for Development and Enterprise and Trudi Makhaya, economic analyst at eNCA Africa, had to say about the new political party. Bernstein argued that while...

Back in March 2012, a good five months before the Marikana massacre exposed the internal weaknesses of the South African trade union sector, SACSIS' Fazila Farouk interviewed labour expert, Ighsaan Schroeder, who said that Cosatu was well on its way to demise and could collapse within a mere 15 years due to serious structural weaknesses in the trade union sector. Soon after the Marikana massacre, Schroeder revised his prediction saying that he gives Cosatu just another five years before...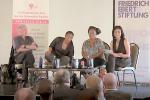 In recent months, it has been reported that the Zulu King, Goodwill Zwelithini, under the auspices of the Ingonyama Trust, is preparing to lodge a massive land claim that will cover much of the land in the province of KwaZulu-Natal. Why is King Zwelithini lodging a land claim that goes back to 1875 when South Africa's land restitution programme only recognizes land dispossessions after 1913? Speaking at an event hosted by SACSIS and the Friedrich Ebert Foundation (FES) to examine...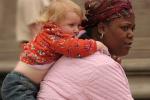 They are important drivers of the South African economy, yet domestic workers are still amongst the lowest paid workers today. Their fate was sealed during the apartheid era when "kitchen girls" were just servants with no workplace rights. Little has changed in post-apartheid South Africa we learn from Myrtle Witbooi, the general secretary of South Africa's domestic workers' union. Domestic work is still not considered decent work. Poor enforcement of regulations and...