Keyword: SACSIS TV


SACSIS caught up with constitutional law expert Prof. Pierre de Vos, author of the blog, Constitutionally Speaking, to talk about how the South African constitution could be applied to deal with South Africa's most pressing challenge, our country's inequality. On the question of whether our constitution could be applied to encourage more redistributive measures, de Vos argues that the constitution doesn't have the power to change South Africa's economic policies....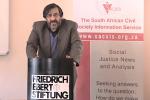 In late July 2014 SACSIS hosted a reflection workshop for our team of writers. Prof. Steven Friedman, Director of the Centre for the Study of Democracy at the University of Johannesburg, was asked to initiate the discussion with a lecture on the question: "What is the role of the social justice commentator in public interest journalism?" Friedman framed his address around the question, "How do ideas change society?" His key argument was that change is a complex and...

The skills gap or skills mismatch argument blames education for the lack of jobs, when instead, it is a crisis of capitalism that has caused the high levels of unemployment in South Africa, and in many other parts of the world, including Southern Europe, argues Salim Vally, co-editor of a new book, Education, Economy and Society. It's a false argument and an ideological hoax to say that we have the jobs but not the skills. Vally also challenges the conventional assumption that education...

In an extensive interview, Numsa's general secretary, Irvin Jim, talks to Fazila Farouk of SACSIS about Numsa's current strike, alliance politics as well as its United Front and Movement for Socialism. In response to a question about building greater solidarity between the middle class and the poor, Jim argues that Numsa's movement for socialism is not only for people who are "red". He says that the middle class has a right to live the kind of life that it...

Following the ANC's robust win at the polls in South Africa's 2014 General Elections, on 22 May 2014, SACSIS and the Friedrich Ebert Foundation hosted a panel discussion to probe the question: "Will the ANC rule until Jesus returns?" The primary impetus for this question was the fact that the ANC won the 2014 General Election despite its leader being tarnished by major corruption scandals and the party's service delivery record being less than exemplary. Meanwhile South...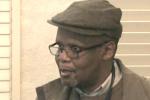 Attending an event hosted by SACSIS on 22 May 2014, NUMSA's Dinga Sikwebu, education officer and the co-ordinator of its newly formed "United Front" said that the union "recognised that the shadow of the ANC is going to be with us for a long time." The remark was made in response to the question that framed a discussion, which evaluated the outcome of South Africa's 2014 General Election: "Will the ANC rule until Jesus returns?" Sikwebu took the...