Keyword: food security

Western countries throw out nearly half of their food, not because it's inedible - but because it doesn't look appealing. At the same time, there is a huge buffer between people and hunger in rich countries. America, for example, has twice as much food on its shop shelves and in its restaurants than is actually needed to feed Americans. This situation creates an imbalance in access to food by creating a squeeze on global food supplies. Unfortunately for people in the Global South, it...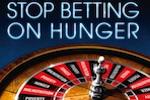 With one billion people starving every day, what is the solution to rising food prices? Could heavier regulation of financial markets be a step forward? Or is it all about subsidies and tariff policies? How much are biofuels menacing food security? And how many more food riots will we see before we find a solution? RT's Cross Talk engages Timothy Wise, Research Director at the Global Development and Environment Network, David Moberg, Senior Editor at In These Times and Ronald Bailey from...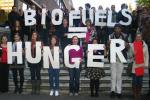 Glenn Ashton - Food prices are rapidly heading toward new record territory, with far more at play than a simple drought in the US Midwest. There are serious implications, especially for nations with high rates of inequality and poverty. We will almost certainly face a potentially catastrophic, global scale famine in the next couple of decades. The main reason there are now over seven billion people on earth is largely due to the emergence of two separate technologies. Firstly, cheap fossil fuels have...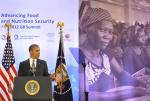 The leaders of eight of the world's largest economies, met in the US, for a G8 Summit hosted by American President Barack Obama at Camp David this past weekend. The Eurozone crisis and Africa were top items for discussion on the Agenda. Many African leaders were also invited to the summit. Following the summit, a media report argues that no commitments of aid were made to Africa, but that advice was dispensed to African leaders about investing in education and infrastructure. Al...
Glenn Ashton - The South African Department of Minerals and Energy (DoE) is holding its final public consultation meetings about the adoption of regulations relating to the mandatory blending of biofuels with petrol and diesel at the end of February. This follows the publication of the draft regulations in September 2011. There is a concerted local drive to promote so-called "biofuels" by their supporters and agro-fuels by their opponents. The logic behind these different terms is worth...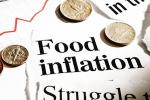 Saliem Fakir - The ANC's next hundred years depends quite distinctly on what happens at its July 2012 policy conference in Mangaung and more importantly, on its implications for the South African economy as a whole. The Achilles heel of the ANC has always been the economy with the last 17 years proving to be a mixed blessing for the party, which has not been convincing in its ability to make the economy work for the country's majority who remain economically disenfranchised -- also...