Keyword: Israel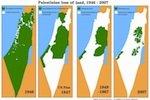 Sandy Tolan - The State to Which the U.N. May Grant Membership Is Disappearing It's the show that time and the world forgot. It's called the Occupation and it's now in its 45th year. Playing on a landscape about the size of Delaware, it remains largely hidden from view, while Middle Eastern headlines from elsewhere seize the day. Diplomats shuttle back and forth from Washington and Brussels to Middle Eastern capitals; the Israeli-Turkish alliance ruptures amid bold declarations from the...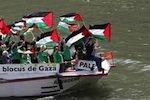 On 1 September 2011, the panel of inquiry established by the secretary general of the UN into events that transpired when Israeli commandos attacked a flotilla, which included Turkish ships en route to break the blockade on Gaza, found that while Israel did use excessive force, boarding the ships was legal because the blockade on Gaza is legal. However, talking about the findings of the Palmer Report, Michael Ratner, the president of the Centre for Constitutional Rights, an American...

President Obama publicly confirmed Monday that the United States will oppose any attempt by the Palestinians to achieve statehood at the United Nations, but Palestinians leaders are still vowing to move ahead with their bid for statehood this week. What will the ramifications of a U.S. veto be? For more, Democracy Now speak with Massachusetts Institute of Technology Professor Emeritus, Noam Chomsky. "If the Palestinians do bring the issue to the Security Council and the US vetoes it,...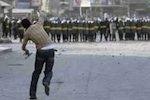 Adil E. Shamoo - If conditions do not change quickly by the time of the U.S.-promised veto of Palestinian statehood at the UN General Assembly on September 20, the Palestinian-Israeli conflict could explode into a new uprising with hundreds of deaths. The recent attack of Palestinian extremists on a bus in the southern Israeli resort town of Eilat and the eager over-reaction of Israeli President Benjamin Netanyahu is a harbinger of what is to come. The uprising will bring the United States into sharp...
Vijay Prashad - Sitting on an Amtrak train from New Haven to Washington DC on Friday, I was enjoying my thriller, Kjell Ola Dahl's The Man in the Window. Dahl's police procedural novels are set in Oslo, Norway, where the remarkable detectives Frank Frølich and Gunnarstranda confront the heart of modern evil: Property is often the hub of the conflict, but so too is the ineluctable history of Nazism and the Second World War. A brave history of pacifism, partly contained in the Norwegian Labour Party,...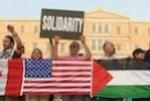 On Friday, 8 July 2011, hundreds of activists from around the world were prevented from landing in Israel's Ben Gurion International airport. The activists were invited by Palestinian groups in a campaign called "Welcome to Palestine." The Fly In was meant to protest Israel's practice of frequently denying the entry of activists and the Palestinian Diaspora into the occupied territories. Just as the boat flotilla's are being prevented from leaving Greek and Turkish...