Keyword: AFRICOM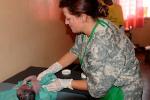 Nick Turse - [This story was reported in partnership with the Investigative Fund at the Nation Institute. Additional funding was provided through the generosity of Adelaide Gomer.] DAR ES SALAAM, Tanzania -- Movie night in Mouloud, Djibouti. Skype lessons in Ethiopia. Veterinary training assistance in Garissa, Kenya. And in this country on the east coast of Africa, work on both primary and secondary schools and a cistern to provide clean water. These are all-American good works,...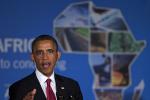 Mandisi Majavu - The US-Africa Leaders Summit currently taking place in Washington points to Africa's growing strategic importance to US interests. The theme of the Summit is "Investing in the Next Generation" and aims to advance the US's focus on trade and investment in Africa. Historically, the US has always adopted a militarised foreign policy towards Africa. When the Bush administration launched the Defense Unified Combatant Command for Africa (AFRICOM) in 2007, that move was...
Joeva Rock - As the world remains transfixed by the kidnapping of almost 300 Nigerian girls, there have been increasing calls for international intervention in the effort to rescue them. But what many Americans don't know is that the U.S. military has been active in the region for years. With the Iraq War over and the war in Afghanistan slowly ending, it is becoming increasingly apparent—from interviews with generals, recommendations from influential think tanks, and private conversations with...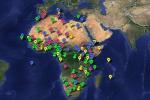 Nick Turse - They're involved in Algeria and Angola, Benin and Botswana, Burkina Faso and Burundi, Cameroon and the Cape Verde Islands. And that's just the ABCs of the situation. Skip to the end of the alphabet and the story remains the same: Senegal and the Seychelles, Togo and Tunisia, Uganda and Zambia. From north to south, east to west, the Horn of Africa to the Sahel, the heart of the continent to the islands off its coasts, the U.S. military is...

There is a hope that there can be leadership from the Obama administration to curb the militarization of its engagement with Africa. But on June 3, when the rest of the world came together to have initial signers for the United Nations' Arms Trade Treaty - the Obama administration - the United States of America, was not among that group, argues, Emira Woods, co-director of Foreign Policy In Focus at the Institute for Policy Studies. Meanwhile America has also set up a drone base in...
Glenn Ashton - The role of the military in Africa has morphed from the established model of supporting strongmen, to that of projecting economic power and influence. This has recently been placed in sharp focus by the questionable intervention of South African National Defence Force (SANDF) troops in the Central African Republic (CAR). The opacity around South Africa's presence in the CAR has been tragically emphasised by the statistically unsatisfactory outcome of 13 dead and 26 declared injured...