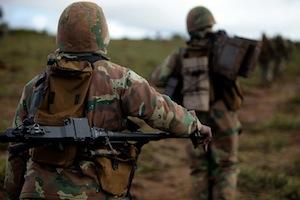 Picture: SANDF soldiers courtesy Cpl. Jad Sleiman, U.S. Marine Corps/Wikimedia.
The role of the military in Africa has morphed from the established model of supporting strongmen, to that of projecting economic power and influence. This has recently been placed in sharp focus by the questionable intervention of South African National Defence Force (SANDF) troops in the Central African Republic (CAR).

The opacity around South Africa's presence in the CAR has been tragically emphasised by the statistically unsatisfactory outcome of 13 dead and 26 declared injured from a contingent of only 200 troops. Explanations from South African political leadership regarding this purportedly bilateral deployment are unconvincing and inadequate.

While other military forces have intervened in Africa, these have generally been supported by multilateral or UN mandates. South Africa has boots on the ground in Darfur and Congo under United Nations (UN) control, each backed by UN resolutions. The role of NATO in Libya during 2011 was similarly, but somewhat more controversially decided at UN level. However the unilateral presence of SANDF troops to either protect South African economic interests or to project questionable South African power should be avoided.

France has had a lengthy military presence throughout Francophone Africa. Its role has been generally restrained, backed by a policy of non-intervention in political affairs, although it has a lengthy list of active intervention, as currently in Mali. The increasing presence of Africom, the United States African military command, is primarily to support strategic US energy and economic interests. While US and French presences can be projected as neo-colonial by nature, in reality each takes immense care in how they project their military power in the 21st century African milieu.

On the other hand the presence of South African troops in the CAR is less nuanced and could also be termed neo-colonial, although with far less diplomatic finesse. It did not carry a comprehensive African Union (AU), let alone UN mandate. The intervention was badly managed, improperly considered and appears ill-fated. It can be argued that the role of SANDF troops in CAR indicates a dangerous shift by South Africa towards supporting illegitimate regimes in order to protect economic interests with strong links to powerful domestic political networks. The presence may have been legal but was it morally defensible?

Research has revealed that ANC heavyweight insiders like Billy Masetlha, Joshua Nxumalo and Paul Langa were, or are involved in various business interests in the CAR. These interests are further linked to the ruling ANC through the increasingly notorious Chancellor House Trust, perceived to be involved in crony capitalism, as well as being a key funder of the ruling party.

It is of further concern that South Africa, with its erstwhile moral cachet, has so badly abused its self-appointed role as a regional superpower. This is especially so given its inability to decisively project this power militarily. While South Africa has leveraged its powerful economy throughout the region, projecting itself as an economic gateway into Africa, it lacks the military logistical reach and clout to underpin its bold economic projection.

The South African troops in CAR may have prevailed against a ragtag force of children and irregulars – as they should have. The 1st Parabat Batallion is an elite unit after all. But even so, besides the unprecedented losses, South Africa has, through lack of proper planning and diplomatic foresight, managed to self-inflict a serious diplomatic bloody nose on the face it projects to the world at large. Not only were there indications of serious intelligence failures on the ground, but there was no logistic backup for this isolated force, which allegedly subsisted on ration packs and little more.

Against this background, the mixed messaging from South African political leadership regarding the role of the armed forces in CAR has served only to further muddy the water. Instead of explaining the presence of the SANDF in an unstable political landscape, an unconvincing case was made that these paratroopers were training CAR regular army forces. Other credible reports indicate that the SANDF was protecting South African commercial interests in the country.

The new CAR leadership under Michel Djotodia has indicated that the South Africans are no longer welcome. Instead he has, possibly mistakenly, pinned his allegiance to the EU and US to support his regime and rebuild his country. He has also said he would review commercial agreements between SA and Chinese interests granted by his predecessor.

The South African troops appear traumatised by their encounter with child soldiers. They should immediately be withdrawn for debriefing, whatever the case. Indications that further South African troops are being readied for deployment are of concern, although there are reports that these, and possibly forces deployed in the CAR, may be being withdrawn.

Any suggestion to increase troop numbers to battalion strength appear ill-considered given the poor logistics, long supply lines and expense. Further military setbacks would highlight not only a failure of leadership but of poor perception management around diplomatic and foreign relations.

There is a serious potential for blowback from this military misadventure. While the South Africans may have prevailed in the encounter, they are at risk of losing the war on the public relations front, despite political leadership trying its best to turn a tragedy into a nationalistic, gung-ho victory.

There is also a real risk that South African projection of power into the region will be harmed by its injudicious bilateral relationship with ousted CAR leader Bozizé, who appears to have favoured South African economic interests because of associated political and military support. South Africa simply cannot afford to squander moral capital on relationships with illegitimate leaders of resource-rich states in return for economic favours for its political elite.

South Africa's presence in multilateral peacekeeping missions across the continent, under the auspices of the UN in Darfur and the Democratic Republic of Congo, are totally different matters. UN-led multilateral task forces are incomparable to internal, national decisions to interfere militarily in notoriously unstable states, even if the idea was suggested by the AU.

South Africa is increasingly perceived not as much as a regional heavyweight but as a comprador for Western interests. Its political and commercial aspirations lack sensitivity to local conditions. The CAR fiasco is likely to exacerbate these perceptions and possibly build resentment against South African economic expansionism, let alone misguided attempts of further military intervention. South Africa would be foolish to further diminish its reputation by not summarily withdrawing from the CAR.

If South Africa is to become a respected participant in African and broader international affairs it requires far more nuanced, mature and diplomatic political leadership. It needs to pay heed to sensitivities around national and regional perceptions around its role.

It is especially important that South Africa should only engage in military actions under multilateral regional agreements, be they UN or AU led, and never again under questionable bilateral pacts with leaders of dubious democratic pedigree. Finally, any attempt to project economic power through the projection of military power or adventurism is utterly inadvisable.