Keyword: Che Guevara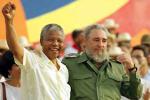 Mandisi Majavu - Cuba is reportedly sending the largest foreign medical team from a single country to West Africa to help fight the Ebola virus. Cuba's contribution to the development and progress of African countries is often unacknowledged in the mainstream public discourse. One is more likely to read about the United Nation's condemnation of Cuba's human rights record than about the vital role Cuba has played assisting African countries establish public health systems. Cuba has helped establish...

Michael Ratner and Michael Steven Smith are the co-authors of a new book about the U.S. role in the killing of Cuban revolutionary, Ernesto "Che" Guevara. Born in Argentina in 1928, Che rose to international prominence as one of the key leaders of the 1959 Cuban Revolution that overthrew US-backed dictator Fulgencio Batista. After a period in the new Cuban government leadership, Che aimed to spark revolutionary activity internationally. On October 8, 1967, he was captured by...
Che Guevara's Children, Dr Aleida Guevara and Camilo Guevara, are in South Africa to mobilise support for the release of the Cuban Five. Their visit to South Africa will culminate in a march to the American Embassy in Pretoria, to demand the release of The Cuban Five. The march will start at the Union Buildings in Pretoria on Friday, 23 October 2009 at 09h30. The Guevara's will also be using their visit to the country to share their knowledge about the Cuban health model, one of the most...