Keyword: protest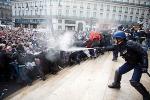 In a major new report, the International Network of Civil Liberties Organizations details a global crackdown on peaceful protests through excessive police force and the criminalization of dissent. The report, "Take Back the Streets: Repression and Criminalization of Protest Around the World," (PDF) warns of a growing tendency to perceive individuals exercising a fundamental democratic right — the right to protest — as a threat requiring a forceful government response....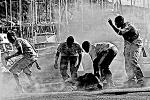 Richard Pithouse - Here we are, almost twenty years after apartheid and from the prisons, to the shack settlements and the farms, the riotous underbelly of our society is on television most nights. We're not even a full month into the year and its been reported that the police have killed another protester in the Boland and, depending on which newspaper you read, three, four or six people in Zamdela in Sasolburg. The new normal that we are being asked to accept after Mangaung has won consent in some...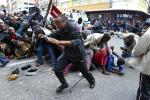 Anna Majavu - Increased police brutality and the prospect of conservative politicians using public money to sue and bankrupt organizations they ideologically oppose - these are the likely outcomes of last week's Constitutional Court judgment against protest organisers. In a judgment which upheld a repressive clause in the apartheid-era 1993 Regulation of Gatherings Act, Chief Justice Mogoeng Mogoeng ruled that members of the public who suffer damages from protestors have the right to recoup their...
Jane Duncan - Public demonstrations have been central to South Africa's democratic life for decades. Yet recent events suggest a narrowing of the substance of the right to assemble, demonstrate and picket, and a de-legitimisation of street politics. In this regard, the City of Cape Town's near hysterical overreaction to attempts to occupy Rondebosch Common is cause for concern. Last week's Constitutional Court case about whether the South African Transport and Allied...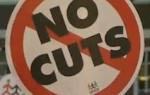 In Britain, up to two million workers marched in the streets this week during the largest mass protest in generations. Teachers, hospital staff, garbage collectors, firefighters and border guards are participating in a 24-hour strike organized by a coalition of 30 trade unions. About a thousand demonstrations and rallies were held across the country. Public sector workers say proposed pension "reforms" will force them to pay more and work for longer before they can retire....


As many as 500,000 protesters marched in London on Saturday to protest Britain's deepest cuts to public spending since World War II. The protests come after U.K. officials estimated corporate taxes would be reduced even as it tackles a $235 billion deficit and plans to cut more than 300,000 public sector jobs. Meanwhile, in the United States protesters gathered in 40 cities on Saturday to oppose tax cuts for the wealthy amid budget cuts to public services. Democracy Now broadcasts a...