Keyword: protest
Jane Duncan - In a recent opinion piece entitled 'A threefold crisis, but Zuma is listening', political analyst Adam Habib argued that the balance of power has shifted towards the poor under Jacob Zuma's presidency, leading to the trade union movement and the South African Communist Party (SACP) having more of a say in the affairs of the country. Furthermore, Zuma has proved to be much more responsive to public opinion than his predecessor, Thabo Mbeki, in the process paying attention to citizen and...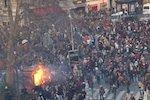 Philippe Marliere - When he entered the Elysée palace in 2007, Nicolas Sarkozy dreamed of a glorious destiny. Enthusiastic commentators predicted that his casual populism would revamp the Bonapartist right, and that his Gallic brand of neoliberal policies would sell the "American dream" to a mistrustful population. Things have not gone according to plan. Sarkozy wanted to be the French JFK; today he looks more like Louis XVI awaiting trial in 1793. He may escape the guillotine, but his...
Richard Pithouse - The fear of violence, like the fear of monsters, is primal and universal. But the sensitive middle class soul who professes a deep revulsion at all forms of violence is quite likely to call the police or a private security company if he wakes to the sound of breaking glass. Violence is seldom renounced in the absolute. It is more usually outsourced. In the global public sphere horror at violence is far from equitable. Four and a half million people died in the war in the Congo with a small...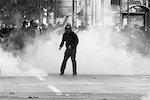 Richard Pithouse - In recent weeks the centre of the unstable and diverse social ferment that has been bubbling and boiling at the base of South African society since at least 2004 has shifted to Cape Town. People have often remarked that the conflict on the slopes of the Sentinel in Hout Bay, in which four people lost their eyes to rubber bullets fired by the police, has evoked the past. But our cities are the most unequal in the world and many of our people are holding firmly to the promise of inclusion in a...
Jane Duncan - The South African Police Service (SAPS) has issued a directive to a number of municipalities not to allow marches for the duration of the 2010 World Cup. How many have received it is unclear. This ban came to light when a civil society march for quality public education, scheduled to take place on 10 June to Constitution Hill in Braamfontein, was banned last week. The Anti-privatisation Forum (APF) also planned to march to protest against aspects of the World Cup and general...