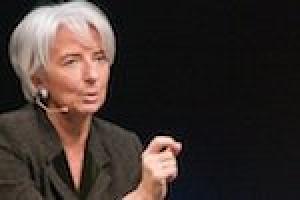 Picture: Adam Tinworth
Former United States secretary of state Henry Kissinger once complained that Europe didn't have a single telephone number. He didn't know who to turn to as the authentic voice of Europe. The same can be said today about BRICS, the grouping that has come to personify the best and the brightest emerging powers in the global order. BRICS comprises Brazil, Russia, India, China and South Africa.
Dominique Strauss-Kahn's summary exit from his job as the managing director of the International Monetary Fund (IMF) over allegations of sexual assault has badly exposed the BRICS as an empty vessel that periodically makes a lot of noise.
Hardly six weeks have passed since China hosted the BRICS summit in a trail of glory led by nobody other than President Hu Jintao, while, today, BRICS leaders would turn red in the face with embarrassment if they recalled that the People's Daily hailed their forum as the "anchor of the global economy and politics."
Strauss-Kahn cannot become the president of France, as he was reported to have wanted. But, equally, his contribution to the making of the world order will exceed present President Nicolas Sarkozy's. Thanks to the manner in which he quit his job at the IMF, a mad scramble followed to grab his job, which, in turn, has brought to the surface the fault lines in the international system. But for Strauss-Kahn, the birth pangs of the multipolar world wouldn't have been so audible.
Despite the universal homilies that the world order needs to be democratized, when crunch time came, Western countries rapidly closed ranks and staked their claim in unseemly hurry to keep the IMF job as their exclusive preserve.
Within a matter of 72 hours or so, French Finance Minister Christine Lagarde announced her candidacy for the IMF job, European nations rallied behind her, the Group of Eight (G-8) proclaimed its support and she kicked off on a global tour. She posted a triumphant message on her Twitter account on Sunday: "Flying to Brasilia: tomorrow lunch with my colleague Guido Mantega, meeting with governor of the Central Bank Alexandre Tombini."
Acrobatic Bear
Yes, Lagarde had lunch in a BRICS capital after securing support from another BRICS country, Russia, which was present at the G-8 summit dinner last Thursday in France.
The irony is, Russia has been perhaps the most ardent votary of the BRICS, but when it sat down at the banquet table at the G-8 summit, it had an identity crisis and it quickly decided it had better be part of the Western world rather than the moth-eaten developing world.
This becomes all too apparent from the stance that Russia took at the G-8 summit on Friday in endorsing Lagarde's candidature. Russia was party to the BRICS's statement on Wednesday that questioned Lagarde's candidature and had sought a "truly transparent, merit-based and competitive process for the selection."
Russia also knew that a G-8 endorsement practically meant that Lagarde would win the race since the G-8 nations account for 42% of the voting electorate. But then, Russia didn't have a candidate of its own qualified enough for the IMF post. More important, the G-8 is one of a handful of symbols that makes Russia feel self-assured that it is still a big power with global influence.
Underlying it all is post-Soviet Russia's craving to be "accepted" as an "equal" member of the Euro-Atlantic community. Whether Russia entered into a Faustian deal over some issue of vital interest to it remains unclear, but it shouldn't come as a surprise, either.
Anyway, the upshot is that Russia almost overnight turned its back on BRICS, whereas it has been swearing all this while from the Kremlin ramparts that the grouping is the best thing that ever happened in the post-Cold War international system.
The West and the Rest
The US traditionally headed the World Bank and Europe the IMF. The race over the IMF job underscores that the West simply can't contemplate any other way the world financial system can be run. The Western attempt to hustle the nominations to the IMF post by June 10 and to draw up the schedule of election almost unilaterally in a weekend meeting without even giving time for all executive directors to assemble in Washington indeed underscores that might is right. The IMF is expected to announce the candidates for its top post by June 17 and select its next managing director by June 30.
All this is happening despite the commitment made in 2007 at the time of the selection of Strauss-Kahn by the Euro group that "the next managing director will certainly not be a European" and that "in the Euro group and among EU [European Union] finance ministers, everyone is aware that Strauss-Kahn will probably be the last European to become director of the IMF in the foreseeable future."
On the other hand, the Europeans argue with a straight face that a fellow national at the head of the IMF at the present juncture is an imperative as the 17-nation eurozone struggles to cope with financial problems in Portugal, Greece, Spain and Ireland.
Within BRICS, all eyes are on China and India. (Japan remains strangely indifferent despite holding the second-largest share.) Can China and India tango although they have shared interests? That should have been the big question. But it isn't. What is apparent is that both China and India have taken an unusually noisy stance but neither is doing anything by way of concretely challenging Lagarde's candidacy.
Neither China nor India has any credible candidate for the IMF post. So, both have taken a "principled" position for purpose of record. Beyond that, there appears to be no real coordination between them, nor is either of them inclined to work out a consensus candidate.
Interestingly, neither Beijing nor Delhi has so far given a date for Lagarde to drop by and formally push her candidature. Beijing has also kept silent on Lagarde's unilateral claim that she enjoys China's support or her candidature. In reality, though, it is clever tactic while both China and India seem to be preparing themselves after riding the high horse for a few days to endorse Lagarde's candidature. For both, it will be a loss of face. But then, both countries are hardened "realists."
Dragon Slithers Away…
All three major Chinese newspapers carried editorials/commentaries. The Xinhua commentary that was carried by People's Daily and China Daily drew vicarious pleasure that a joint statement by BRICS representatives at the IMF last week is "a much-needed example of coordination among these leading emerging economies."
It exhorted the BRICS countries to be "more confident in asserting their common position, even if that may annoy others." The commentary was in an obviously self-congratulatory mood but it turned out to be hyperbole.
The Global Times featured a forceful editorial attacking the "backroom deal between Europe and the US to respectively head the IMF and the World Bank." It said: "Dominating the global financial layout, the US and Europe are grabbing colossal benefits in international labor division." But then it went into an apologetic mood, explaining that China lacked the clout to put up a fight against Western dominance:
Besides, due to historical and practical reasons, BRICS countries still have misunderstandings and divergences among themselves, which may be taken advantage of by the US and Europe to disintegrate the group ... It may take a few decades before the BRICS are able to bring substantial changes to the ingrained financial order ... It is still early to stress the status of the BRICS members in the IMF.
China is not even cautiously optimistic about a candidate from the emerging economies making it to the top job in IMF at this juncture. Beyond paying lip service to the BRICS, it is obviously playing for the long haul in terms of its national interests. China doesn't want to rock the boat at present. Its current preference is to secure more representation on the IMF's governing bodies and for that to happen, Beijing needs Europe's help.
To be sure, China takes a long-term view and is more concerned about the reforms in the IMF, which would be possible in exchange for supporting Lagarde, and at a faster pace than under an emerging market candidate. China stands on the threshold of being admitted into the higher management of the IMF and its interest lies in deftly handling its equations with the United States and the European Union and thereby inserting itself into the decision-making process in the international economic system.
Thus, a fundamental contradiction arises insofar as BRICS symbolizes a vaguely revolutionary spirit of challenging the established order, whereas China is in actuality an unabashedly a status quo power.
…And Elephant Stomps Its Feet
Equally, India also went into contradictory stances. Finance Minister Pranab Mukherjee said in New Delhi on Thursday, "I am in touch with some of the finance ministers of developing countries and emerging economies ... We are trying to consolidate our position where we can take a view."
But on the contrary, India's executive director in the IMF Arvind Virmani was forthright: "Unless the voting shares which various countries hold in the IMF are changed to reflect new economic realities, it is going to be extremely difficult for any non-European candidate to win the election."
Finally, a definitive position did come from Prime Minister Manmohan Singh, but he took the high ground. Couched in pious homilies and in a note of resignation, Manmohan told the Indian media on Saturday:
We would like to remind the industrialized world that there is a tacit agreement that top positions in international financial institutions must go to specific countries as a matter of right...but the best talent in the world should be available to man these institutions, that is our general position. The struggle for a better, balanced and more equitable world order, including the management of global institutions like the IMF, World Bank, [United Nations] Security Council is going to be a long haul, I am afraid.
Manmohan echoed Mukherjee's hope that a consensus would emerge and that India was in touch with various countries, but that is merely for the record. Delhi has decided to emulate Beijing's game plan. For India, in particular, France has emerged as a major partner country with which it is building a profound military relationship and to administer a snub to Gallic pride at this point is the last thing on Delhi's mind.
Besides, Delhi is counting on robust support from France for its membership of the Nuclear Suppliers Group - France, in fact, is sponsoring the proposal - and the United Nations Security Council.
Keeping a low profile indeed suits India's interests at this juncture. India has a long way to go to be part of global decision-making and all it can do for the present, as Manmohan has wisely done, is to keep calling attention to the unequal and unjust world order, which bypasses the collective voice of a billion people on the planet with an economy that is surging, and then turn to do business with the existing order.
The best thing that can happen for India out of this experience is that Delhi might finally comprehend that despite its growing economy and the manifest flattery by the West, its interests continue to be intertwined with those of developing countries rather with China or Russia's, which are post-communist countries grappling with a crisis of identity.
Manmohan discovered during a recent six-day African tour that India is still a sentimental journey for African countries.
Joker in the Pack
With Russia having "defected" without even bothering to consult any of its BRICS partners; with Russia, China, India and Brazil not even bothering to take note that South Africa, another BRICS partner, indeed has put forth a candidate; and, now, with Brazil having hosted a lunch for Lagarde, BRICS increasingly looks like a joker in the pack in the international system.
How did matters come to this sorry pass? Certainly, it is not a question of dearth of suitable candidates. Look at the impressive list of potential candidates from emerging economies who are by any reckoning as well-qualified for the IMF post as Lagarde could be:
Tharman Shanmugaratnam, Singapore's finance minister and deputy prime minister.
Agustin Carstens, current governor of Mexico's central bank.
Arminio Fraga, former governor of Brazil's central bank.
Sri Mulyani Indrawati, former finance minister of Indonesia.
Trevor Manuel, South African planning minister.
So, where is the problem? It all boils down to what BRICS has been about - a selective bonding by a clutch of highly ambitious countries with vastly disparate self-interests on the sole basis of acquiring leverage to secure a place at the high table of the world economic and political order.
Is this the end of the road for BRICS? The IMF saga has certainly bruised BRICS and dented its credibility and it is doubtful if it will easily recover its verve in time for the Delhi summit meeting in 2012. However, its constituents will probably continue to see tactical advantages in maintaining the pretence of a BRICS process, although that may exist only paper.
The point is, BRICS will remain a shelter for Russia so long as it stands excluded from a common European home. China will have use for BRICS to ostentatiously empathize with developing countries and indeed to pretend it is one among them. BRICS has never been more than a half-way house for India, where India takes a break now and then as it treks wearily toward the rich man's club. BRICS enables Brazil to momentarily step out of the American shadow in the Western hemisphere.
Lagarde would say with a trademark smile on her face, "Le Roi est mort, vive le Roi!" - "The King is dead. Long live the King."
Ambassador Bhadrakumar was a career diplomat in the Indian Foreign Service. His assignments included the Soviet Union, South Korea, Sri Lanka, Germany, Afghanistan, Pakistan, Uzbekistan, Kuwait and Turkey. He can be reached at [email protected].
This article was originally published by Asia Times Online. SACSIS cannot authorise its republication. For reprinting rights, please contact the author.