Keyword: BRICS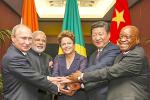 Kaja Baum - There's a new global development bank in town. And whether it stands to threaten or bolster the long entrenched World Bank and IMF, its presence will likely change the dynamics of development financing for the world. The BRICS — a bloc of the emerging economies of Brazil, Russia, India, China, and South Africa — announced last summer that they were founding a "New Development Bank" to compete with Western-dominated financial institutions. Each country has...
Pepe Escobar - A specter haunts the fast-aging "New American Century": the possibility of a future Beijing-Moscow-Berlin strategic trade and commercial alliance. Let's call it the BMB. Its likelihood is being seriously discussed at the highest levels in Beijing and Moscow, and viewed with interest in Berlin, New Delhi, and Tehran. But don't mention it inside Washington's Beltway or at NATO headquarters in Brussels. There, the star of the show today and tomorrow is the new...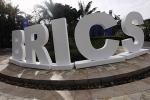 Alexander O'Riordan - Last week Brazil, Russia, India, China and South Africa (BRICS) announced they are joining forces to establish a BRICS alternative to the World Bank. The BRICS bank will be capitalised to the tune of $50 billion or about the same size as the World Bank's loan to Brazil. While the size of the initial capital allocation does not stack up in comparison to the World Bank's, this could still prove to be a significant opportunity to change the global system more in favour of the...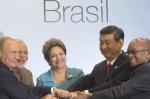 Michael Hudson, Distinguished Research Professor of Economics at the University of Missouri and Leo Panitch, a distinguished research professor of political science at York University in Toronto, discuss and debate the significance of the new international development bank created by Brazil, Russia, India, China and South Africa (BRICS). While Hudson argues that the new BRICS Bank, which is called the New Development Bank (NDB), heralds a new era in the global geopolitical power balance,...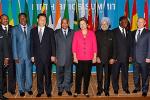 Saliem Fakir - The 5th BRICS Summit recently hosted in Durban has come to an end with great fanfare and celebrations that progress has been made with the announcement that a BRICS development bank will be established. The concept of the bank is sketchy and it is hard to tell what it will look like given that the partners are still mulling its final form. However, its primary focus is mooted to be in infrastructure development. Beyond that South Africa will chair the BRICS process until Brazil hosts the...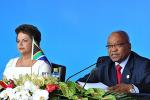 Pepe Escobar - Reports on the premature death of the BRICS (Brazil, Russia, India, China and South Africa) have been greatly exaggerated. Western corporate media is flooded with such nonsense, perpetrated in this particular case by the head of Morgan Stanley Investment Management. Reality spells otherwise. The BRICS meet in Durban, South Africa, this Tuesday to, among other steps, create their own credit rating agency, sidelining the dictatorship - or at least "biased agendas", in New Delhi's...