Keyword: IMF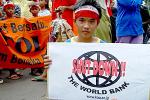 Patrick Bond - Is age 70 a dignified time for retirement, especially for policies and practices long considered destructive but now back in official favour at the World Bank? Founded in 1944 to finance war-torn Europe's reconstruction, the Bank is now suffering one of its most severe credibility crises. A new civil society campaign, 'WorldVsBank', features protests and teach-ins on Friday, October 10, at the Bank's Annual Meeting in Washington and ten other countries, including...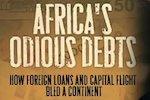 During the past four decades Sub-Saharan Africa has experienced a financial haemorrhage, much of it as a result of corrupt, kleptocratic dictatorships that funnelled money out of the country to international banks during the Cold War. While many dictators have fallen, the results of their corrupt ways still affect the people of the subcontinent. Is it fair to ask Africans to pay back the loans of corrupt dictators? Africa's people are poor because "the subcontinent's...
Liepollo Pheko - The race which decided who would be heading up the International Monetary Fund (IMF) is finally over. Yesterday, France's finance minister, Christine Lagarde, who beat Mexico's Agustín Carstens to the post, was announced as the new managing director of the international financial institution. You will likely recall that our very own Trevor Manuel dropped out of the race at an early stage, recognising perhaps that he was no match for the determined Europeans'...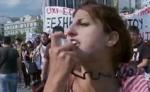 As this Democracy Now broadcast went to air, lawmakers in Greece were voting on — and later approved — a new round of sweeping austerity measures amidst a general strike that's brought tens of thousands into the streets. Riot police have fired volleys of tear gas, smoke bombs and stun grenades in a bid to clear the masses of Greek protesters surrounding the parliament in Athens. The chaotic standoff began Tuesday when police stormed the adjacent Syntagma Square, where...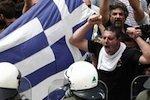 Mark Weisbrot - The European authorities are playing a dangerous game of "chicken" with Greece right now. It is overdue for U.S. members of Congress to exercise some oversight as to what our government's role is in this process, and how we might be preparing for a Greek debt default. Depending on how it happens, this default could have serious repercussions for the international financial system and the U.S. (and world) economy. The U.S. government has a direct and significant role...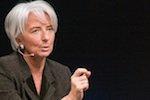 M K Bhadrakumar - Former United States secretary of state Henry Kissinger once complained that Europe didn't have a single telephone number. He didn't know who to turn to as the authentic voice of Europe. The same can be said today about BRICS, the grouping that has come to personify the best and the brightest emerging powers in the global order. BRICS comprises Brazil, Russia, India, China and South Africa. Dominique Strauss-Kahn's summary exit from his job as the managing director of the...