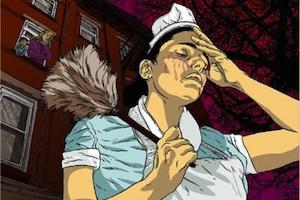 Picture: Gail Pellet Productions
"The boss can also tell you what to do around the house. For example, she'll say wash the dogs even though it's not your job to do that. Then she'll tell me to put sunscreen on the dogs because they get burnt. Now the dogs run away from me when they see me because they hate sunscreen. Have you ever seen a dog that uses sunscreen?" (Domestic Worker from Pimville working in a Johannesburg suburb.)
There are approximately one million, mainly black women, who are domestic workers in South Africa. The Basic Conditions of Employment Act (BCEA) is the overarching piece of legislation that regulates their wages and working conditions in addition to, broadly speaking, all unorganised workers in South Africa.
Some economists argue that our labour legislation is too rigid and hinders economic growth by not allowing businesses and employers to create jobs, which we all agree are sorely needed. Such economists are likely to say that South Africa needs a more flexible labour market. Workers, on the other hand, are arguing that South Africa's labour legislation is adequately enabling if employers are serious about creating jobs and not just growing profits.
The BCEA is central to any discussion about whether the labour market is too rigid and an obstacle to growth or too flexible, riding roughshod over workers' rights. The Act, in conjunction with the Constitution, sets out the rights of workers to a livelihood and their rights as human beings.
The Community Agency for Social Enquiry (CASE), an NGO that conducts socio-economic research, recently had the opportunity to speak with some of South Africa's domestic workers and their employers in six provinces including major urban centres, to test whether the BCEA was making a difference in their lives. The research was done on behalf of the Services Sector Education and Training Authority who will present a report of the findings to an International Labour Organisation (ILO) conference later this year. The ILO is considering developing a global convention around domestic work and South Africa, along with other countries, will be contributing to their process.
The discussions conducted with workers and employers were extremely useful for gaining insights into the effectiveness of the labour legislation. However, testimonies provided by both domestic workers and their employers also provided damning evidence of the abuse of workers in South Africa's middle and upper class homes.
Domestic work, like work on farms, is particularly difficult to monitor. It becomes tricky to enforce labour legislation for a variety of reasons that relate to the nature of the workplace and the work itself. Notably, work is done in private homes and hidden from the public. This is further exacerbated by the perceived low level of skills in a context where high levels of unemployment also place workers in a very vulnerable position.
What emerged from focus group discussions with workers and employers is that there are many areas where initial improvements and early legislation have made a positive impact, but serious abuse of workers still continues.
The BCEA makes provision for sectoral determinations wherein the most popularly known provision is the minimum wage. In 2002, a sectoral determination came into effect for domestic workers. It has since remained in place and makes provision for the minimum wage to be increased each year. Whilst all the conditions have remained the same, as from December 2010, the minimum wage for full-time domestic workers is R1442.86 or R1191.78 per month depending on the geographical area in which the worker works.
In general, when data collected by Statistics South Africa are analysed, the analysis shows some improvement in wages and access to benefits as well as the fact that written contracts are now more common for domestic workers than before the determination was introduced.
In the focus groups conducted by CASE, it was evident that earlier campaigns about the sectoral determination had had some impact on sensitising both workers and employers to the fact that legislation that governed wages and working conditions existed.
However, workers reported that the legislation and their conditions of employment were being seriously undermined by economic migrants looking for employment. Employers are using the threat of employing vulnerable foreign migrants as a way of keeping wages low for domestic workers.
"People from Zimbabwe are willing to work for R40 a day; I can't do that because I can't live off that. Most of the people working in the suburbs and complexes are the cheap labour from other countries. If you have a problem and talk to your boss, if you have an argument, they tell you that you can leave now because there are plenty of people from Zimbabwe that will work for cheap, that's their advantage." (Domestic worker from Orlando East working in a Johannesburg suburb.)
With regard to wages, it would seem that the initial campaigns to popularise the sectoral determination have not been followed up in that both employers and workers tended to refer to the R800 per month, which was initially set. The annual increases and revised wages catered for in the sectoral determination seem not to have taken hold. This is serious, as the cost of living and especially food prices have risen sharply in recent years. Food costs, in particular, consume a large portion of poor workers' earnings. In essence, ignorance about the increases means that the legislation on minimum wages is not being adhered to. And, in some cases employers are ignoring even the R800 that they think is the minimum.
"When I hire someone I tell them that I can afford so much. It's up to her to agree. If she doesn't agree, she doesn't have to stay." (Gauteng employer)
South African-born domestic workers have, in effect, always been migrant workers due to economic and racial legislation that forced mothers and daughters to be separated from their families and live in suburban maid's quarters or 'backrooms'. Historically, apartheid legislation dictated that their families live far from their places of employment, as their presence in the cities was made illegal. Thus, domestic workers have been living in poor accommodation for decades and whilst the mining sector and its single-sex hostels have been well documented, migrancy in respect of domestic work is less known and researched.
The legislation around domestic work makes provision for "sleep-in workers," as they are known, and the sectoral determination provides some protection for their physical wellbeing. However, it is their social and family life that suffers most and mainly their constitutional rights around dignity that are violated.
It's a common sight to see domestic workers sitting around socialising with their friends on the pavements of middle class suburbs. In many cases, friends and family are not allowed to visit as private property laws allow the employer to control access. Domestic workers, as a result, do not have suitable spaces and time to engage in social activities and their lives are sometimes akin to modern day slavery and bondage.
"The only law we know is theirs. They dictate what happens in their homes. They decide whether or not your friends can visit and whether you can bring your boyfriend. Sometimes they dictate whether you stay there or not. If you're from a rural area and they don't want you to live in their house, you have to find a place to live. (Domestic Worker from Pimville working in a Johannesburg suburb.)
A common concern raised by domestic workers is their employers' relationships with pets vis-à-vis themselves. In the view of domestic workers, employers treat their pets better than their workers. Further, they are often given duties in relation to pets, which they despise as being demeaning areas of work.
"I am starting to realize how we are exploited also now. These people have dogs that we must cook for and take them out for walks but that is not part of the agreement." [1st participant]; "Those dogs eat better than you and sleep better than you." [2nd participant]; "I cook this chicken for the dog and I eat it before giving it to the dog. Do you know that it must be roasted as well?" [3rd participant]; (Domestic workers from Gugulethu working in a Cape Town suburb).
Discussions of abuse also centred on employers being disrespectful of the worker as an adult and human being. Domestic workers are often referred to as "girl" and treated like children. Domestic workers observe their treatment and compare this with how children are treated in the household. Given the closeness with the family and the fact that they occupy the same personal space, sometimes employers see them as part of the family. Sadly, however, they are relegated to being treated as children and not as adults who have control over their own lives.
"My girl would never open the gate not unless she phones me first…. She doesn't even open for the postman if he says that he has a package to deliver." (Cape Town employer)
Domestic workers also complained about racism and the neglect of human rights. The practice of employers viewing workers as inferior to them in relation to access to food and the use of cutlery and crockery is still reported as being an area where workers felt they were being discriminated against based on their race. Evidence that the history of apartheid lingers on in the homes and especially in the kitchens of employers was strong.
"Where I work, the utensils I use to eat stay outside. It is apartheid…because they still think that Africans aren't on the same level as them. When I want to eat I have to get the dishes from outside and she'll dish up for me." (Domestic worker living in Orlando East and working in a Johannesburg suburb.)
One of the areas woefully neglected is the area of health and safety. There is little evidence that there is any medical aid or medical insurance for domestic workers. At best, workers injured on duty report that they get assisted to get to the nearest public facility. When pregnant, registered workers generally only get what the Unemployment Insurance Fund pays them during the period when they give birth to children. Domestic workers demonstrated that they were aware of and expected the same rights as other workers.
"My boss studies labour relations. She has the books and the certificates for that but I can't even bring up topics like sick leave to her. Last year I had gallstones, and I stayed at home for a week. After that, I had to work off that week in December when they were on holiday. She made me look after their dogs. I was in and out of hospital. I wasn't given a bonus. They said it's because I'd been sick. In January, she called the hospital and suggested that I go for my operation. I stayed at home for three days and I had stitches. I had to go back to work, bending over and all of that despite my condition." (Domestic Worker from Pimville working in a Johannesburg suburb.)
Perhaps the discussion of whether our labour legislation is too restrictive and needs to be further liberalised needs to consider more seriously the plight of exploited workers. Our society and economy will not grow if human rights and workers' rights are not protected.
In the last 16 years of our democracy no progress has been made in reducing inequality whilst just a little progress has been made in reducing poverty, but nowhere near enough to eradicate this self made scourge.
It is time to consider some far-reaching and radical changes in the way that we organise and prioritise the debates about what will be good for all of us in the long term.