Keyword: domestic workers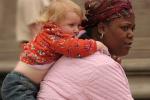 They are important drivers of the South African economy, yet domestic workers are still amongst the lowest paid workers today. Their fate was sealed during the apartheid era when "kitchen girls" were just servants with no workplace rights. Little has changed in post-apartheid South Africa we learn from Myrtle Witbooi, the general secretary of South Africa's domestic workers' union. Domestic work is still not considered decent work. Poor enforcement of regulations and...
Walden Bello - The freer flow of commodities and capital has been one of the features of the contemporary process of globalization. Unlike in the earlier phase of globalization in the 19th century, however, the freer flow of commodities and capital has not been accompanied by a freer movement of labor globally. The dynamic centers of the global economy, after all, have imposed ever tighter restrictions on migration from the poorer countries.Yet the demand for cheap labor in the richer parts of the world...

Liepollo Pheko - 'The Help' is a movie that tells the story of black domestic workers who quite literally hold up the economic and social sky of their employers in the early 1960s of Jackson, Mississippi in the United States of America (US). Their lives intersecting with those of the privileged white women whose homes they clean, meals they prepare and whose children they raise. The Oscar-nominated movie made waves at the recent Golden Globe Awards ceremony when Octavia Spencer, who plays...
Michelle Pressend - The adoption of the Convention Concerning Decent Work for Domestic Workers on 16 June at the 100th International Labour Conference of the International Labour Organisation (ILO) was a momentous occasion for domestic workers around the world. This Convention sets out global standards to ensure decent working conditions for domestic workers, which the 183 Member States of the United Nations (UN) will have to implement, as the ILO is a UN agency. Domestic workers often referred to as...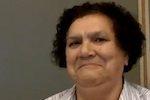 South Africa's Myrtle Witbooi, chairperson of the Domestic Workers' Network, rallies support in the run up to the adoption of the "Convention Concerning Decent Work for Domestic Workers" at the International Labour Organsiation earlier this month in Geneva. Speaking on behalf of domestic workers, Witbooi, said, "We have come here to claim our rights. To be reconginsed as human beings and to give us back our dignity as women, because after all, the women that we work...
Mohamed Motala - "The boss can also tell you what to do around the house. For example, she'll say wash the dogs even though it's not your job to do that. Then she'll tell me to put sunscreen on the dogs because they get burnt. Now the dogs run away from me when they see me because they hate sunscreen. Have you ever seen a dog that uses sunscreen?" (Domestic Worker from Pimville working in a Johannesburg suburb.) There are approximately one million, mainly black women, who are...