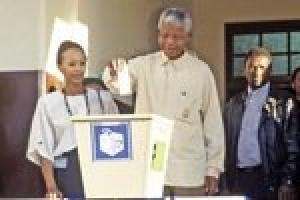 Picture: United Nations
The ANC does not deserve my vote. I dedicated my life to the fight for freedom and a better life for South Africa's poor. During the anti-apartheid struggle, we mobilised people under the banner of the Freedom Charter. But today I've come to realise that the ANC does not deserve my vote because it doesn't live up to the vision of the Freedom Charter.
This has been coming for a long time – before the sensationalist hype around the private lives' and lies of leaders like Jacob Zuma, before the scandal that we've come to know as the "Arms Deal" and before "Travelgate".
Corruption is to be expected from human beings – it is in our nature to want more and to try to get away with it if we think we won't get caught. Corruption is corruption even if it hasn't been exposed. Who knows how many other fallible human beings in high office are committing corruption? We can only make it difficult for corruption to thrive, but we are unable to eliminate it.
So when there's evidence that some people are involved in corruption this does not surprise me. It does however disappoint me, since it means that these individuals – and they are individuals – have strayed far from our collective vision.
Those who always thought "black rule" wouldn't work get a kick out of ridiculing us now. It makes some well-meaning, honest comrades bitter because they feel they have been made fools and that their honesty has been flouted by their very own. So strong is their disappointment that they withdraw from political life and from supporting the ANC -- the party that they gave up their youth for in pursuit of unbanning and putting it into power.
For me, the biggest problem is not the corruption that is innate in all of us, but the fact that the ANC has not intensified its work towards achieving the vision of the Freedom Charter.
It's not that the ANC has made no difference to the lives of South Africans at all. Since taking power, the ANC has made a difference in the lives of many South Africans, bringing them water, houses, free schooling and better facilities. For the better of all South Africans, there are those who have finally got career opportunities thanks to affirmative action and others have landed shares in companies as black economic empowerment (BEE) partners. For the general public there is the right to vote, the freedom to criticise the government and many other freedoms.
As a result, in 2005, I voted for the ANC out of loyalty. But by then it also seemed clear that the ANC was comfortable and arrogant in its two-thirds majority. Too often this comfort caused the ANC to turn a blind eye to the demands made by poor people and to the failure of public servants who did not implement the policies that are in place – these public servants were not fired, they received salary increases as they rolled over unspent funds and made excuses to passive members of parliament (MPs) for not delivering.
By 2005, it was also clear that most ANC MPs in key parliamentary positions were hoping to be 'promoted' to the Cabinet so they never took a hard line with a minister or department that was failing the people.
As time has passed, the ANC has done less and less to uplift the very poor.
Since 2005 the media has also done a great job keeping us all focused on the private lives of some of our leaders. This has distracted us from the real issues that we should be judging the ANC's performance on. Notwithstanding the leadership battle in the ANC that has also made it difficult to make a clear judgement during election time, as there is much distortion of the truth from all sides.
The decision about who to vote for must be informed by the right kind of information. In this regard, it is critically important to gain an understanding of government's performance throughout the five years that it has been in office.
Similarly, we should take note of the oppositions' performance during that time. How many times did they redirect the ANC government back to the issues facing the poor? Did they present alternatives for the public to support when government's delivery strategies failed? To what extent were they able to add value to the plans and implementation programmes that government devised?
The media has proven to be unreliable when it comes to real information on government's delivery and if we are to trust it then opposition politicians seem to have only focused on the corruption scandals with what seems to be personal vendettas against ANC leaders.
Our democracy can only mature if we grow as active citizens. Active citizens need to be informed and involved. This demands an active process of seeking and finding information.
As you consider who to vote for, ask yourself what you would like to see change, or stay the same, or improve the most in South Africa. Toss out all the election leaflets and consider the history of this issue over the last five years. Do some research to catch up if you didn't keep track over the last five years. Visit government's websites to read reports about work done and attend local council meetings. These are open to the public.
There are websites you can visit to find archives and a record of government's performance over past five years. These include the government's own information service, GCIS. There are also civil society organisations that help to keep us informed of government's programmes and parliamentary discussions, such as Participation Junction.
As active citizens of our democracy, it is important for us to find out who the councillors are that represent our area in the national and provincial parliaments and to make contact with them. Find the contact details of every MP on Participation Junction's website.
In Cape Town, national parliamentary committee meetings are also open to the public. In every province, the provincial parliament's committee meetings are open to the public. Attend the meetings and watch who stands up for the poor. Hear what work is actually happening and understand the challenges faced by government.
If you really want to become involved in making South Africa's democracy work, consider joining a political party for the next election, so you can be part of the decision of choosing its leaders and influencing the priorities it sets.
I have been an active citizen and I have seen that not all ANC leaders are corrupt. I have even seen ANC leaders stand and deliver to the poor.
Over and over again I have also seen the same opposition party always defend the interests of corporate South Africa and continuing to maintain the racial status quo of the past.
I have seen the power that business wields – it corrupts officials to get policies its way. It offers to build capacity in government so that it can influence the views of officials and it is relentless in lobbying for its own interests. I have seen ANC leaders wooed by business without even realising it. These leaders have become disinterested in the issues of the poor.
In 2009 I looked around to see who else I could vote for. I considered only those parties that had no history in apartheid politics. Historically, the ANC has always stood for the poor and has done more than any other progressive movement to overcome apartheid. It had the most effective strategies then. Presently, its policies are generally sound but it has not delivered enough and some leaders have lost direction.
Which other party can do more for the poor? There is no other at this time. This year, I have matured as a voter. My vote for the ANC is not blind and it is not a loyalty vote. I have weighed my options and among all the imperfections of all the contenders, the ANC holds out the best hope for changing the lives of the poor. So it will get my vote.
It is important to remember that one votes for a party and its principles, not its individuals.
About the Author: Charlene Houston is an activist who dedicated her life to the struggle for freedom. She worked underground and in UDF structures to unban the ANC. She was expelled from the ANC for disagreeing with its election strategy and then contesting the local government elections on a civic mandate in 1995. She continues to work closely with ANC leaders in the interest of a better life for poor South Africans. She has contributed extensively to promoting participatory governance in South Africa and in Southern Africa.