Final Blow to Arab Spring? All Charges Dropped Against Egypt's Mubarak
Ousted president may not walk free immediately, but court's ruling seems to complete counter-revolution in nation that helped spark wave of uprisings.
By John Queally · 1 Dec 2014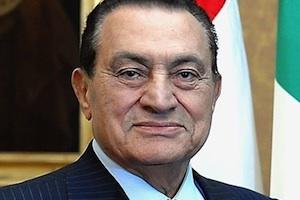 Picture: Former Egyptian President Hosni Mubarak courtesy Wikipedia
In yet another blow to the Egyptian revolutionaries whose hopes have been repeatedly dashed since the protests they initiated in 2011 swept former autocratic ruler Hosni Mubarak from power, a court on Saturday dropped all the remaining criminal charges, including allegations of murder, that had been levied against the nation's former president.
Al-Jazeera America
reports
:
An Egyptian court has thrown out charges against former President Hosni Mubarak, his interior minister, and six aides over the killing of protesters during the 2011 Egyptian uprising.

[...] Chief Judge Mahmoud Kamel al-Rashidi also cleared Mubarak and his sons, Alaa and Gamal, of corruption charges related to gas exports. The judge said too much time had elapsed since the alleged crime took place for the court to rule on the matter.

Nearly 900 protesters were killed in the 18-day uprising that ended when Mubarak stepped down, handing over power to the military. The trial, however, was concerned only with the killing of 239 protesters, whose names were cited in the charge sheet.

Mubarak, 86, will not walk free after Saturday's verdicts. He was found guilty in May in another case related to theft of public funds and has been serving that three-year sentence while under house arrest for medical reasons in an army hospital in an upscale Cairo suburb.
In response to the news, Egyptian-American journalist Sharif Abdel Kouddous tweeted: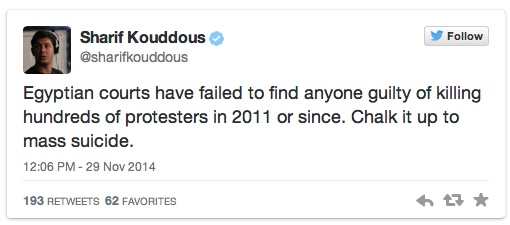 Though army tanks blocked off access to Tahrir Square in Cairo following the court's announcement, some Egyptians got as close as they could to express their disappointment with the ruling:
The
New York Times
adds
:
The decision, Judge Rashidi declared on Saturday, "has nothing to do with politics."

Beyond the courtroom, though, many Egyptians said that it reflected the times. President Abdel Fattah el-Sisi, the former general who last year led the military takeover that ousted Egypt's elected Islamist government, has consolidated power as the country's new strongman. He has surrounded himself with former Mubarak ministers and advisers.

State-run and pro-government media now routinely denounce the pro-democracy activists who led the 2011 uprising as a "fifth column" out to undermine the state. Some of the most prominent activists are in prison, and the Islamists who dominated the elections are now jailed as terrorists.