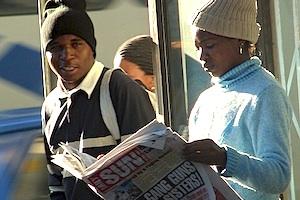 Picture: koolskatkat/flickr
The Print and Digital Media Transformation Task Team has just released its much-anticipated report into transformation in the major press groups. The report is an important step forward for the press, as it forces the industry to deal with issues it has not taken seriously up to this point. It is a blunt assessment and an indictment of the extent of racial and gender transformation in their ownership and management structures, which remain far too white and male.

The Task Team is clear that this situation is unsustainable and needs to change. A press that is out of step demographically with the rest of the country is bound to have legitimacy problems, no matter how robust it is. Its proposals that each company sets annual transformation targets and that these should be made public, is a welcome move in the direction of transparency. While modest, the targets that have been set should ensure significant progress in this form of transformation.

Coming in the wake of the Press Freedom Commission, which proposed key changes to the system of press self-regulation, it is a pity that both processes were initiated by the press only when they faced the prospect of statutory regulation and Parliamentary insistence on a transformation Charter. Too many in the press rushed to label these criticisms as attacks on press freedom, and undeniably, the threat of statutory regulation was. But many were reluctant to acknowledge that they actually needed to get their own houses in order on these areas, as they were areas of vulnerability that could be (and were) exploited by opportunists pursuing press control agendas.

However, there are significant blind spots in the report. The Task Team rejected the idea of a Charter, which would have allowed the press to move beyond a narrow definition of transformation that equated it with Broad Based Black Economic Empowerment (B-BBEE), and that relied on the generic scorecards for its measurement. This locks the press into an elite form of transformation, where racial and gender substitution becomes the main indicator of transformation, rather than diversification and democratisation.

The media, including the press, could be said to have transformed when it reflects the society in which it operates, in terms of race, class, gender and sexual orientation, age, linguistic and geographic distribution. While replacing white people and men with black people and women is undoubtedly a necessary condition of transformation, it is by no means a sufficient condition. Yet the report missed an important opportunity to challenge the dominant definition of transformation.

Granted, the report does devote space to the importance of diversity as a component of transformation, and notes allegations of anti-competitive, diversity-reducing practices by the large press groups. It also raises questions about the effectiveness of the statutory Media Development and Diversity Agency (MDDA) in fostering media diversity.

While it does hint at the press structure being oligopolistic, it doesn't elaborate. It makes no specific findings on levels of press concentration. Given that this has been one of the main complaints against the press – namely that it is overly concentrated – this is a significant omission. Neither does it delve sufficiently into the extent to which diversity could be said to exist, and unlike the seven elements of the B-BBEE scorecard, it makes no proposals for specific targets to ensure diversification. This means that diversity questions are likely to be marginalized as components of transformation, relative to B-BBEE.

On a related point, it is also disappointing to note that the Task Team ducked the thorny issue of transformation in the most important area of the press's operations, namely editorial content. The report claims that the PFC dealt with content-related matters, which is incorrect: that process only dealt with content regulation.

The Task Team's terms of reference are ambiguous on whether it should address content, which is probably because, according to the Task Team report, 'the print industry itself believes that while it has demonstrably dealt with its reason for existence as evidenced by its products, [but] it has not come to grips with the transformation of its business side'. In other words, the press has decided for itself that content transformation is not an issue, which is a problematic piece of self-judgment. Clearly, individuals and organisations wanted to be heard on this matter, and as a result made submissions on it, but the Team's silence on this issue means that their voices have been lost in the process.

There can be little doubt that editorial content is much more reflective of the society in which it operates than it was under apartheid. This is partly because newsrooms are much more reflective of the country's demographics than ownership or management, and newspapers have had to respond to the changing demographics of their readers. Yet two reports released recently raise questions about the depth of content transformation in the media.

The first report on youth in the media produced by several researchers, including Media Tenor, and led by Rhodes University, found that - over an eighteen-month period - few issues that mattered to young people were included in media coverage.

Little media content targets the youth, in spite of the fact that South African society is bottom heavy. With the exception of education, youth input on issues of importance was minimal, with practically no youth input on crime. Coverage over this period focused on the (mis)conduct of the-then African National Congress Youth League leaders Julius Malema and Floyd Shivambu and controversies surrounding the National Youth Development Agency. Coverage was largely negative and provided young people with few positive role models. Young men were more prominent in the coverage than young women.

The young people surveyed (close to a 1000 in four provinces) rated the media's credibility as being low, and lamented the lack of in-depth coverage that was relevant to them. Largely, the media failed to be a resource for young peoples' developing civic and political identities, with radio and television being rated more highly than newspapers and magazines. Yet in spite of this, respondents had high levels of trust in the media, in contrast to levels of trust in public institutions and political parties, which were low. Media policies were also largely silent on promotion of youth voices, reinforcing their marginal status in the media.

The second report was released by Media Tenor to coincide with 'Women's Month' (August), and highlighted the perennial problem of women's' voices being underrepresented in the media. Focussing mainly on television, the report found that women accounted for a mere 14% of coverage in South Africa, and women remain underrepresented in most regions of the world.

These reports point to a paradox in the media transformation picture that the report remains largely silent on, and which has particular implications for the press. Newspapers are on the cutting edge of investigative journalism, and undeniably their exposés of official misconduct benefit society as a whole. But much of this reporting focuses on the (mis)doings of the political and economic elites, and many still do not see themselves and their immediate issues in much of this content.

It seems fair to say that, nineteen years into democracy, and in spite of huge gains for media transformation, the social inequalities that exist in broader society continue to be reproduced in and through the media. The distributional rewards of this transformation have been spread unequally across society, and this is especially so with respect to the press as it has a smaller and more upmarket footprint than broadcasting. South Africa's public sphere is still very much an elite public sphere. This is dangerous as it can lead to a society that is unable to see itself. The country risks becoming aware of a mounting crisis at the base of society only when there is a social explosion: a Wesselton, Ficksburg or Marikana.

Clearly, the Task Team's report should be welcomed. But it has narrowed down rather than broadened out the debate about press transformation. Until there is a proper debate about the extent to which South Africans actually see themselves in the media, including the press, some of the most important lacunae in press transformation will remain unacknowledged, and hence unaddressed.