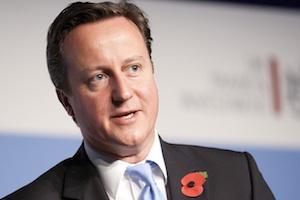 Picture: David Cameron, British Prime Minister courtesy bisgovuk/Flickr.
On April 30th 2013, the Mail and Guardian reported that the United Kingdom will phase out aid to South Africa. While the press has implied that the cuts are due to budget reasons, this is not at all the case.

When David Cameron was elected to power he was elected partly on the promise that he would cut spending in every government department except aid, education and health care. In keeping with his commitments, just over six months ago Prime Minister Cameron pledged to increase the UK's spending on international aid and, in fact, in the government's own budget aid is projected to grow by 38% between 2012 and 2015 and, in fact, the UK's aid budget has increased almost 50% since the year before the financial crisis.

So, what is happening is not about budget austerity but rather about changing priorities from using aid to build relationships with developing countries as a whole to focussing on lower income countries and directing the majority of its resources to fragile or conflict prone states. As evidence of these shifting priorities, the Mail and Guardian quotes the UK Development Secretary, Justine Greening, as explaining "It is right that our relationship [with South Africa] changes to one of mutual cooperation and trade."

The South African government has complained that the UK's decision was taken without consultation but notably has not made any reference to how important the UK's resources are or to what the implications might mean beyond a reduction in aid itself.

The UK accounted for less than 4% of the total USD 1.2 billion of aid to South Africa as reported to the OECD in 2011. This 4% is not an insignificant amount, however. R480 million at today's rate, while not an enormous sum, is larger than what South Africa itself plans to spend on international aid through South Africa's own international aid programme, the African Renaissance and International Cooperation Fund. (The majority of SA's spending on development cooperation goes to contributions to regional organisations or the UN).

There is a lesson in this for our civil society: before we presume that what the UK is doing is shifting aid from countries like South Africa to meet other needs, it is essential to keep in mind that this is not about decreasing resources but rather about changing how government works.

In the UK, the Conservative Party has a lot to lose by cutting aid. Aid is a small amount of overall resources but cutting it would open the Conservative Party to political assault by the left as well as by the powerful immigrant advocacy groups that represent an important part of the electorate. On the other hand, there are many opportunities to divert development and/or humanitarian aid to more hawkish priorities. For example, there are many opportunities to work towards common security interests as reported in the press by diverting aid spending to fragile states. After all, Israel, now a developed country continues to be one of the largest recipients of US aid.

The one fifth of one percentage point of UK aid that comes to South Africa is not going to make much of a difference when reallocated to a fragile state. In fact what the UK is doing is purposeful and designed to foster a very different kind of relationship with South Africa. With the UK exiting the aid space in South Africa, it is allowed to develop stronger relations with our country based on a better mutual understanding of South Africa's ambitions to be a developmental state. This is a crucially different relationship to that based on a shared understanding and dialogue with South Africa, which essentially posits that this country's future is intimately tied to the quality of her democracy, delivery and accountability to her citizens.

What will fundamentally change in South Africa is that the UK will no longer be pressured to communicate with the government in the often-messy context of an aid and development relationship. Aid puts beneficiary governments like South Africa into often uncomfortable policy dialogue on sensitive issues such as transparency, anti-corruption and poverty alleviation. The UK's R480 million a year to South Africa is not sufficient to make a meaningful change to the lives of South Africans but it does strengthen the hand of civil society because big donors like the UK are paying attention and participating in the same theatre in which civil society activists are increasingly complaining about being left to stand alone.

The UK's decision to end aid to South Africa happens to accompany a steady and slow erosion of South Africa's democratic space with civil society being one of the most visible sites of this erosion. This steadily deteriorating situation is not my personal opinion but reported in the World Bank World Wide Governance Indicators, Country Data Report for 1996-2011. The World Bank aggregates governance data on South Africa (and other countries) from twenty different independent sources. In line with what one would expect in terms of how a democracy evolves into a developmental state, indicators related to government's capacity to regulate and enforce its power have steadily improved. However, at exactly the same time there has been a consistent decline in South Africa's indicators for "voice and accountability", "government effectiveness" and "control of corruption".

The deteriorating space for critical engagement and accountability in South Africa is accompanied by a new threat to Western interests: a growing economic and political alliance with other developing countries, most notably the BRICS. One might be inclined to conclude that perhaps the UK is reducing its aid to South Africa as a slap on the wrist for South Africa's alignment with the BRICS but I suspect this is not a compelling reading of how governments and allocation of development assistance works. In my reading the UK is reducing aid to South Africa and other valuable trade partners to allow the UK greater opportunity to compete with the BRICS. In the current environment where UK and Western interests compete with those from countries like China, aid can be an incentive for government to build relationships but it can also be a significant handicap due to its tendency to position donors as critical voices that hold governments to account.

South Africa's civil society needs to ask whether the departure of the UK from South Africa strengthens or weakens its ability to challenge power and hold decision makers to account? More importantly, critical civil society and rights organisations need to ask not only what is lost but also what is to be gained by the UK ending its aid programming in South Africa. Whatever South Africa's civil society does or does not do, it can only help to think a little critically about what the UK's changing relationship means for the sector.