Keyword: housing
Anna Majavu - The "overwhelming adversity" they had to face daily as a result of living in an informal dwelling felt "like a mountain fell on me", said one Cape Town resident. Politicians from across the spectrum have lied to the public for years about their plans to "eradicate", "upgrade" and "transform" informal settlements. They have forced communities out of informal settlements into equally horrible transit camps or temporary relocation...
Anna Majavu - Last week at Lonmin mines, the ANC saw the consequences of allowing South Africa to remain one of the most unequal countries in the world. The steadfast refusal of the mineworkers to continue their dangerous work without a substantial pay increase, and the consequent massacre of the workers by police are just the start of what is yet to come. The police killings appear to have sparked a level of outrage amongst the Black poor and working class that could prove to be a tipping point. For...

In New York, Occupy Wass Street (OWS) is shifting its focus away from occupying parks and squares to other actions, such as occupying homes, and has specifically launched an "Occupy Our Homes" campaign. In December 2011, activists carried out a nationwide day of action to reclaim foreclosed homes from bailed-out banks and move homeless families into them. In Brooklyn, New York, an occupation of a home has entered its second month. Members of the OWS movement defend the...
Richard Pithouse - Tokyo Sexwale recently announced, in Brandfort, in a performance carefully choreographed to be rich with the symbolism of a once insurgent nationalism, that Winnie Mandikizela-Mandela will lead a new government task team on informal settlements. "She will", he said, "help us develop informal settlements because we cannot solve it without the Winnie Madikizela-Mandela motherly heart." In the national imagination Brandfort is the feminine version of Robben Island, a...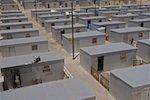 Mandisi Majavu - Cape Town is the second largest city in South Africa. Affectionately known as the 'mother city', it is home to about 3,4 million people. Helen Zille recently argued in the Sunday Times that Cape Town is "the least unequal city in South Africa." The point, however, is that Cape Town is an unequal city - a white city that is not very motherly towards poor people of colour. A large number of people of colour live in poverty. It is estimated that 400 000 families of...
Richard Pithouse - The shacks that ring the towns and cities of the global South are a concrete instantiation of both the long catastrophe of colonialism and neocolonial 'development' and the human will to survive and to hope to overcome. To step into the shack settlement is often to step into the void. This is not, as is so often assumed, because a different type of person finds that the tides of history have washed her into a shack settlement. It is because the shack settlement does not fully belong to...