Keyword: racial prejudice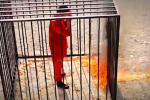 Chauncey DeVega - ISIS burned Muadh al Kasasbeh, a captured Jordian fighter pilot, to death. They doused him with an accelerant. His captors set him on fire. Muadh al Kasasbeh desperately tried to put out the flames. ISIS recorded Muadh al Kasasbeh's immolation, produced a video designed to intimidate their enemies, and then circulated it online. ISIS's burning alive of Muadh al Kasasbeh has been denounced as an act of savagery, barbarism, and wanton cruelty--one from the "dark ages" and not of...

Gillian Schutte - In January this year, between 8-10 protestors were killed by the police in service delivery protests, four of them simply for rising up to demand a most basic right - water. This is a contravention of human rights on many levels and while it sent shock waves through poor black working class and marginalized communities, the broader middle class did not react at all. In fact, the silence from South Africa's middle class was resounding and mystifying. Instead of outrage they have...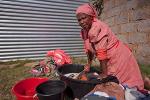 Gillian Schutte & Sipho Singiswa - Oppression, when written about, is often reduced to one layer of suffering. Yet when one unpacks the lives and narratives of the poor it becomes clear that their struggle to survive takes place under many layers of oppression. Layer One: The History of Racial Oppression The most obvious layer of oppression is that of a history of colonialism, labour and apartheid. Colonialists created 'race' as a way of oppressing the colonised. This race construct was created on the...

Set in America, "Whitewashed" is a film about racism and the world of whiteness. Filmmaker and social justice activist, Mark Patrick George, uses amateur footage of interviews collected over the course of several years to get beneath the surface of issues rarely discussed in public. His documentary records the voices of white people reflecting on race, racism, white identity and white privilege. "I can go anywhere I want and I am seen as acceptable. And the reason I am...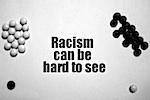 Many people would argue that they are not racist, however, Al Jazeera's The Stream delves deeper into the issue. Their feature this week examines subconscious racism. It is a form of racism that is subtle, yet as, if not more, damaging than overt racism. Listen to this panel of experts unpack the problem of stereotyping and implicit racial biases. "Implicit bias is not benign, it has very serious systemic impacts. Individuals can be decent and still perpetuate these injustices,"...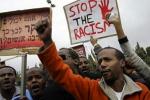 Joel Schalit - The name of the neighborhood could not have been more symbolic. Located in southern Tel Aviv, the impoverished Hatikva quarter has always born the stigma of sharing a name with Israel's national anthem, while playing home to some of the poorest, most marginalized Jews in the country—as well as a growing population of African asylum seekers, mostly from Eritrea and South Sudan. On May 23, Hatikva had the dubious distinction of hosting the worst race riots since Israel's...