Keyword: racial prejudice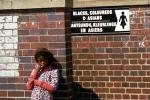 Charles W. Mills & Tom Mills - Charles W. Mills is John Evans Professor of Moral and Intellectual Philosophy at Northwestern University. He is the author of The Racial Contract and has written extensively about racism and political theory. In an interview with Tom Mills he discussed his views on race, liberalism, capitalism and the potential for social change. TOM MILLS: The concept of race as an objective category has long been discredited by anthropology and biology, yet the social sciences show that racial...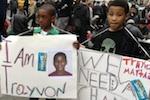 The parents of Trayvon Martin, the unarmed African-American teenager shot dead a month ago, addressed thousands at a "million hoodie" march in New York City calling for the arrest of his killer. Meanwhile in the Florida town where the murder took place, the Sanford City Commission cast a 3-to-2 no-confidence vote in the police chief. Legislators are talking about changing the state's gun laws as George Zimmerman, Trayvon Martin's killer, remains free. Democracy Now! speak with...
Laurie Penny - I'm huddled in the front room with some shell-shocked friends, watching my city burn. The BBC is interchanging footage of blazing cars and running street battles in Hackney, of police horses lining up in Lewisham, of roiling infernos that were once shops and houses in Croydon and in Peckham. Last night, Enfield, Walthamstow, Brixton and Wood Green were looted; there have been hundreds of arrests and dozens of serious injuries, and it will be a miracle if nobody dies tonight. This is...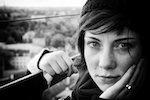 Robert Jensen - In the struggle for racial justice, it's time to pay more attention to the fears of white people. In a white-dominated world, that may seem counterintuitive. In the racial arena, what do we white people have to be afraid of? There are lots of things to fear in this world, of course; race is not the only aspect of life in which people face injustice and inequality. A majority of people of all colors (including working-class and poor whites) struggles economically in a...
Glenn Ashton - The latest catastrophe to hit Haiti has motivated massive responses from a shocked global population. It is hard to believe that an entire nation can be rendered so utterly helpless that they are functionally unable to assist themselves in any meaningful way. But the earthquake of January 13, 2010 is just the latest in a series of body blows to the poorest nation in the western hemisphere. By all accounts Haiti should be a shining beacon of hope, of democracy and an example of the...
The Real News Network talks to Glen Ford, Executive Editor of Black Agenda Report to get his reaction to the get-together organized by President Barack Obama for Professor Henry Louis Gates and Sergeant James Crowley to have an informal chat - ostensibly about race relations - after Crowley arrested Gates in an incident described as motivated by racial profiling. Obama's reaction to incidents of racial profiling, in cases far weightier than the Gates arrest, has been muted. But, Obama...