Keyword: police repression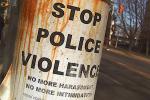 Richard Pithouse - On the last day of September Nqobile Nzuza, a seventeen year old girl, was shot dead by the police near Cato Manor in Durban. She was unarmed and she was shot in her back and the back of her head. She was part of a large group of people who were gathering to organise a road blockade in protest at both oppression, in the form of violent and illegal evictions at the hands of the eThekwini Municipality, and the repression of resistance to the evictions in the form of two assassinations. The...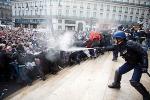 In a major new report, the International Network of Civil Liberties Organizations details a global crackdown on peaceful protests through excessive police force and the criminalization of dissent. The report, "Take Back the Streets: Repression and Criminalization of Protest Around the World," (PDF) warns of a growing tendency to perceive individuals exercising a fundamental democratic right — the right to protest — as a threat requiring a forceful government response....
Jane Duncan - At the end of January, an all too familiar pattern of events played itself out in the Pinetown Magistrate's Court in Durban. Four member of the shack dwellers' movement, Abahlali baseMjondolo, were arrested after a protest against problematic practices in a housing development in KwaNdengezi. They were accused of public violence, robbery, damage to property, and assault with intent to do grievous bodily harm. Charges were withdrawn against three in court, with the exception of...
Richard Pithouse - to the fragrance of lemon blossoms and then to the ultimatums of war - Pablo Neruda, Right Comrade, Its the Hour of the Garden, Isla Negra, Chile, September 1973 When COSATU and the Communist Party have to rely on the police and their stun grenades, rubber bullets and, by some accounts, live ammunition to force their way into a stadium against the opposition of striking workers it is clear that their assumption of a permanent right to leadership is facing a serious challenge from below....
David Bruce - On Friday the 12th of October Zenzile Nyenye and Siyakhele Kwazile were arrested. They have been charged for the murder of Daluvuyo Bongo, the National Union of Mineworkers (NUM) branch secretary in North West. Bongo was shot dead at Marikana on the 5th of October. On Wednesday Nyenye and Kwazile were denied bail by magistrate Carnel Bezuidenhout in the Rustenburg magistrate's court. This article is not written with the intention of arguing that Nyenye and Kwazile are innocent of the...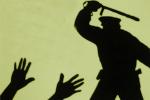 David Bruce - During apartheid some of the most notorious instances of police brutality were the killings of demonstrators involved in peaceful protests. It therefore made sense that one of the issues that received concerted attention during the police reform process of the 1990s was public order policing. An important initial step in this regard was the introduction of new legislation. The Regulation of Gatherings Act, in fact, came into force in January 1994 prior to the formal transition to...