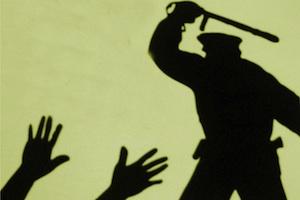 Picture: movimenteseuem.blogspot.com
During apartheid some of the most notorious instances of police brutality were the killings of demonstrators involved in peaceful protests. It therefore made sense that one of the issues that received concerted attention during the police reform process of the 1990s was public order policing.

An important initial step in this regard was the introduction of new legislation. The Regulation of Gatherings Act, in fact, came into force in January 1994 prior to the formal transition to democracy. A special Standing Order 'on crowd management during gatherings and demonstrations' was eventually also adopted by the South African Police Service (SAPS) in 2002. These documents were intended to entrench a policy framework in terms of which the primary role of public order police was to support the right of members of the public to assemble and demonstrate.

In post 1994 South Africa, the right to freedom of assembly and freedom of expression is entrenched in the Constitution. But though the Constitution protects the rights of members of the public to protest 'peacefully and unarmed' it must be acknowledged that between them the Constitutional, legislative and policy provisions are somewhat blurry in some respects. This applies in particular to demonstrations where there is violence, including violence against property, by demonstrators.

Section 9(2)(d) of the Regulation of Gatherings Act, for instance, appears to authorise the use of firearms or other weapons 'to protect against' not only death or serious injury, but also 'destruction or serious damage to property'. Section 11(4)(c) of the public order policy, on the other hand, provides that rubber bullets 'may only be used to disperse a crowd in extreme circumstances. But though one might argue about what constitutes 'extreme circumstances', and when, if ever, these include the destruction of property, there is far less ambiguity about the fact that they may only be used when 'less forceful methods have proved to be ineffective'.

Along with legislation and policy a major investment was also initially made, with substantial foreign assistance, in transforming the apartheid "riot police" into public order policing (POP) units. A new training curriculum was developed and implemented and formal management and command structures were introduced.

Ironically, simultaneously with the development of this specialized capacity, there was an apparent decline in the need for it. By the early years of the new millennium it seemed that the specialised public order policing capacity that had been created was something of an over-investment. Though there were a large number of demonstrations the vast majority of them were entirely peaceful. In order to support their right to freedom of assembly all the police needed to do was provide a couple of police vehicles and a handful of ordinary police officers as a formal escort. As a result public order units started to be used, in support of station-based police, in crime combating operations. The intensive work that had been done on equipping them to deal with complex, and potentially violent, public order situations, would, from this point on, no longer be sustained.

From roughly July 2004 onwards South Africa experienced a series of community and labour demonstrations that involved significant levels of violence. These included sporadic protests against the provision of housing, service delivery and local council corruption, a municipal workers' strike in July – August 2005, various protests over the demarcation of provincial boundaries, and a major strike of security guards over April–June 2006. This pattern of violent protest has continued up to the present.

Though some strikes included a number of killings, in community protests violence on the part of protestors was largely confined to attacks on property. The major exceptions to this rule were acts of collective violence that were motivated by xenophobia, or took on a xenophobic dimension. Most notably in May 2008, 62 people were killed in a series of riots by mobs that targeted people who were believed to be foreigners from other African countries.

Notwithstanding this dramatic increase in violent demonstrations there was no significant increase in killings by police during demonstrations. Over roughly five years, between the beginning of 2000 and the end of 2004, four people were killed by police during demonstrations. Three of these deaths did take place in 2004 but two of these occurred during an operation by the Ekurhuleni metro police and one of the local sheriff's offices. Two more people were killed in 2006 and one in 2008. Notwithstanding the horrific violence that was involved no people were killed by the SAPS during the xenophobic attacks of May 2008 with police in fact being accused of being deliberately tardy in their response. Two people were also killed during a demonstration in Thandakukhanya township near Piet Retief in Mpumalanga in 2009. One was allegedly shot by a traffic police officer and the other by a private security guard.

There was something of an escalation in 2010, with three people killed by police in that year. These included a 46 year-old grandmother, Priscilla Sukhai, in Daveyton in May and a schoolgirl, Anna Nokele in Welkom, in September 2010. But then something very dramatic happened.

During a period of less than five months, from the middle of February 2011 to the beginning of June eleven people were killed in demonstrations. These included two young children who were allegedly drowned as they tried to escape from police who were firing at a township demonstration in Boipelo, 300 kilometres southwest of Johannesburg. The other nine deaths appear to have been a direct consequence of the adoption by the SAPS of brutal new methods for dealing with public protests.

These methods involved the use of live ammunition in some instances. They also involved direct firing of rubber bullets at demonstrators. There is some indication that the new strategy involved the targeting of leaders or other people playing a prominent role in the demonstrations. Whilst at the time it was widely believed that it was a freak incident, the killing of Andries Tatane on April 13 2011 was part of this pattern of killing.

Where rubber bullets are fired directly at close range they are highly likely to be lethal. Rather than being fired directly they are intended to be used as 'skip fire ammunition'. It is for instance rubber bullets that the International Association of Chiefs of Police is referring to when it says in its policy on 'civil disturbances' that "Skip-fired projectiles and munitions or similar devices designed for non-directional non-target-specific use may be used in civil disturbances where life is in jeopardy."

The new SAPS approach first came to public attention during a police operation in Wesselton, near Ermelo, in mid-February 2011. Violent protests that included the blockading of access routes to the township by the burning of tyres, the smashing of traffic lights and road signs, and stoning of a police vehicle had started on Monday the 14th of February. Two people were killed, apparently as a result of police action, during the demonstration.

Though the exact circumstances of the deaths are not entirely clear, according to an Agence France-Presse report, police acknowledged that they fired rubber bullets at protesters and that they 'shot live ammunition into walls as a warning' allegedly after demonstrators opened fire at the security forces. It was presumably the live ammunition that accounted for the death of Bongani Mathebula. According to his mother, "he was walking back home from a traditional healer's surgery when he was caught in the crossfire of police shooting at rioters."

Accounts from residents painted a deeply disturbing picture of police action on Wednesday the 16th when the community protest had already died down. According to residents the police imposed a curfew in the township punishing people who were on the streets by shooting them with rubber bullets or sjambokking them. A cell phone video clip showed a young man rolling on the ground while being followed by armed police, one of whom is perched on the police vehicle's bonnet. According to the man who captured the footage on his cell phone "the youngster in the clip was coming from the nearby shops with a female friend when he was summoned to the officers' vehicle, questioned and allegedly shot at several times with rubber bullets. He was then forced to roll on the dusty street for a considerable distance." According to a Mail & Guardian report, the man who captured the footage also said, "They didn't want anybody on the streets that day. That guy wasn't the only one [who was assaulted]. A lot of people were being ejected from shops and forced to roll on the ground. The police were also conducting door-to-door raids."

Live ammunition also appears to have accounted for the death of a young woman, Dimakatso Kgaswane, who was one of two people killed by police during a protest on May 31, 2011 in Tlokweng in North West province. According to a press report, police used live ammunition to disperse protesters who set alight a tavern and a police minibus. The protest was against ritual killing and perceived police inability to solve cases in the area.

Whilst live ammunition may have accounted for the death of Bongani Mathebula and Dimakatso Kgaswane, it is more likely that Petros Msiza, who died on the 3rd of March 2011, was killed by rubber bullets. According to a press report, Msiza was killed during violence that erupted "when city law enforcers refused to allow South African Municipal Workers Union (Samwu) members, who had gathered at the Tshwane Metro bus depot, to march through the city.

The precursor to the increase in killings in 2011 appears to have been the re-establishment of Operational Response Services (ORS) as a full division within the SAPS. Though it had previously been a full division, by 2010 ORS was a sub-component of the SAPS Crime Prevention division. In January 2011 the then ORS head was transferred to assume the position of provincial commission of the Western Cape. ORS was then re-established as a full SAPS division and a new divisional commissioner, Lieutenant General Malewa, appointed as its head. In addition to the public order units, ORS included a number of paramilitary units including the Special Task Force, National Intervention Unit and Tactical Response Teams.

In some respects the new SAPS methods preceded the re-establishment of ORS as a full division. In July 2009 SAPS members fired rubber bullets at people at close range during an operation in response to protests in Balfour in Mpumalanga. The report of a 'quick response' study published in September that year describes, and includes photographs of, "a 15 year-old boy who had been shot 10 times by rubber bullets at close range. The boy had also suffered a severe head injury allegedly from being struck on the back of his head with the butt of a gun."

According to the report, "The research team also met a woman who had recently given birth and who had been shot in the stomach at close range by a rubber bullet while, according to her, hiding under her bed when a police officer demanded to know who had blocked the road with stones." An accompanying photograph indicates that, in this case, 'close range' meant a distance of less than one metre.

Violent policing methods appear to have had the backing of senior politicians. Addressing 280 mayors and municipal managers at a meeting in October 2009, for instance, President Jacob Zuma said, "I wish to take this opportunity to state without any ambiguity: this government will not tolerate the destruction of property, the violence and the intimidation that often accompanies protests."

Zuma's remarks were made notwithstanding consistent evidence that violent protests generally followed successive unsuccessful attempts by people in communities to have their grievances heard and attended to.

Though heavy-handed police actions were a characteristic of some protests prior to 2011, the re-establishment of ORS as a full division in January 2011 appears to have marked a radical departure. The division's creation was, it seems, accompanied by the idea, that once police had a pretext for using force, they could dispense with principals of minimum force, and use as much force as they wanted to.

But in the aftermath of the political furore that followed the Andries Tatane killing, at a summit against police killings, on 8 July 2012, Minister of Police, Nathi Mthethwa announced a reversal of this policy. He told the summit that while there was a 'need to use maximum force against violent criminals' police should use 'minimum force in dealing with fellow citizens.'

This speech appears to have heralded a reversal of the ORS approach to the policing of demonstrations. Between July 2012 and the Marikana massacre 13 months later, there has apparently been only one killing. In July 2012 a 14-year-old boy died of a gunshot wound during a protest in Folweni Township near Durban.

But, in addition to the massive use of live ammunition, direct firing of rubber bullets was also brought back into use during the police operation at Marikana on 16 August. This brutal use of ammunition that is supposed to be used non-lethally has now apparently taken another life following a police crackdown in Marikana's Nkanene township on the weekend of the 15th and 16th of September. ANC councillor Pauline Masuhlo died in hospital on Wednesday 19th of September. She was allegedly shot by police. Her family believe that she died as a result of a rubber bullet lodged for three days in her leg, close to the knee.

Notwithstanding the consistent evidence that police continuously use excessive force, our political leaders continue to lay the blame for violence on demonstrators.