Keyword: LGBT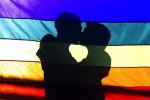 Chitra Nagarajan - On Monday, President Yoweri Museveni of Uganda signed the Anti-Homosexuality Act. The law criminalises lesbianism for the first time, strengthens punishment for anyone caught having sex with someone of the same sex and outlaws the promotion of homosexuality. It criminalises those who assist individuals to engage in homosexual acts and requires citizens to denounce those they suspect of being gay. It introduces an offence of 'aggravated homosexuality' with those convicted receiving...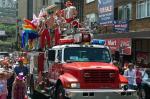 Gillian Schutte - Joburg Pride has closed it doors, shut down, is no longer in business. They obliquely lay the blame at the feet of the One in Nine Campaign in what seems like a disingenuous bid to garner sympathy and demonise the campaigners, rather than shifting their focus to a more progressive and inclusionary agenda. Joburg Gay Pride Festival Company (JGPFC) released their statement of intent on April 3rd, the day after the One in Nine Campaign announced a public meeting, which they...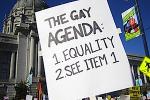 Cynthia Burack - In the past week the Family Research Council has been busy praising Uganda's commitment to Christian faith and "national repentance" -- even as the Ugandan Parliament once again takes up a bill that would legally mandate the persecution of LGBT people. The bill appears to be part and parcel of dictator Yoweri Museveni's "repentance" program, and its reappearance before the legislature has drawn no criticism from FRC or the other Christian right groups...
Gillian Schutte - This weekend at the Joburg Gay Pride parade, the One in Nine Campaign disrupted the parade to make a call for one minute of silence on behalf of the many black lesbians and transsexual individuals who have been murdered over the past few years because of their sexual orientation and gender expression. It was an act of defiance and civil disobedience. The thing about civil disobedience is that it confronts and holds accountable the norms that exist in society today. So when Joburg Pride...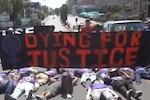 Homophobia is not uncommon in South Africa and those most affected by LGBT hate crimes tend to be black South Africans. At this past weekend's Joburg Gay Parade, a group of predominantly black feminist LGBT activists demanded one minute of silence to honour and mourn those who have been killed because of their sexual orientation and gender expression. But instead of showing solidarity with their cause, organizers of Joburg's Gay Parade assaulted these activists. Watch this clip...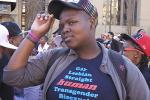 Gillian Schutte - "Africa your silence is loud! Speak out against patriarchy, homophobia and transphobia." So reads one of the many sloganed T-shirts worn by LGBTI rights protestors at the "Say No to Hate Crimes" picket at the Library Gardens yesterday. Other's read: "My Sexuality, My Choice", "Phansi Holomisa!" and "Zuma – your silence is killing our brothers." The gardens are decorated with bright pink hard hats and gay...