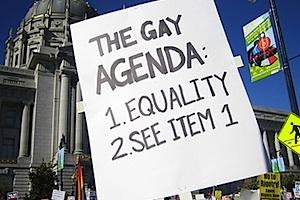 Picture: The Enabler
In the past week the Family Research Council has been busy praising Uganda's commitment to Christian faith and "national repentance" -- even as the Ugandan Parliament once again takes up a bill that would legally mandate the persecution of LGBT people. The bill appears to be part and parcel of dictator Yoweri Museveni's "repentance" program, and its reappearance before the legislature has drawn no criticism from FRC or the other Christian right groups allied with the dictator. If anything, it seems to be drawing tacit, artfully-phrased praise.

Many who have followed the human rights crisis for LGBT people in Uganda know that, in 2009, the Anti-Homosexuality Bill was introduced into the Ugandan Parliament to supplement laws that already banned homosexuality. The bill, quickly dubbed the "Kill the Gays" bill because of its provision of a death penalty for "aggravated homosexuality," also includes severe penalties for other actions and non-actions, including the "failure to disclose the offense" by anyone who might be aware of another person's same-sex sexuality. Although the bill has not been yet passed, it has attracted harsh international condemnation, and many attacks on LGBT people and activists have been attributed to the public debates surrounding it.

It is in this context that last month Uganda's pious President Museveni delivered a speech in which he dedicated his country to God and renounced "the Satanic influence" of "the last 50 years of [its] history." (It is not clear whether Museveni considers it inconvenient that he has governed Uganda for over half of the country's 50 years of said sinfulness.) While he did not mention homosexuality specifically in the long list of sins for which Museveni called upon the deity to forgive the nation, he did name "sexual immorality." In any case, Speaker of Parliament Rebecca Kadaga has taken up the challenge of national repentance by promising passage of the "Kill the Gays" legislation as a "Christmas gift" to the people of Uganda.

Naturally, Christian conservative leaders in the U.S. are thrilled with what FRC has called an "inspirational moment for the [Ugandan] nation." As Alvin McEwen pointed out, FRC President Tony Perkins tweeted a big, warm hug to President Museveni for "leading his nation in repentance" and thus helping to create a "nation prospered by God." But Perkins' tweet was an hors d'oeuvre for the main course, a November 26 email alert sent out to FRC subscribers entitled, "During Revival, Media Still Atone Deaf." As the title suggests, one target of the longer commendation of Museveni is the mainstream media in the U.S. which, having drawn attention to violations of LGBT peoples' human rights in Uganda, is accused of being "so threatened by religion that it refuses to leave another country alone to pursue its own views on sexuality and faith."

Museveni, dictator of Uganda, and aspiring president-for-life, obviously is a favorite of U.S.-based Christian Right leaders even though his government's approach to the "homosexual problem" and the ongoing nightmare for Ugandan lesbians, gay men, bisexuals, and transgender people causes them some heartburn back home. Among them is Rick Warren, pastor of California's Saddleback Church and the author of the bestseller, The Purpose Driven Life, who, in 2008, conferred on Uganda the label of "purpose-driven nation." In 2009, after first refusing to condemn the proposed anti-gay legislation, Warren capitulated, after initially saying, according to Time.com, that he didn't want to interfere in Ugandan politics. Finally, "after criticism grew in the U.S.," Time reported, Warren relented, releasing a statement criticizing the legislation. Now on a book tour hawking an updated version of his bestseller, Warren has yet to comment on the revival of the anti-gay bill he reluctantly condemned three years ago -- though he did stop by CNN last month to compare gay sex to "punch[ing] a guy in the nose."

Other Christian Right leaders and pastors have seen fertile ground for their own religious agendas and enterprises in African nations -- notable among them the organization known as "the Fellowship" or "the Family," which operates the famed "C Street house" in Washington, D.C., a residence for right-wing senators and congressmen -- and they've often lauded the human rights violators who carry out those designs.

For its part, the Family Research Council, which has been designated as a hate group by the Southern Poverty Law Center for its "demonizing lies about the LGBT community," continues to heap praise on President Museveni's theocratic aspirations. In its email alert, FRC quotes liberally from Museveni's speech and notes that Uganda "has stood -- often alone -- for traditional values, abstinence, and families despite tremendous pressure from the West." Without invoking Warren's "purpose-driven" brand, the FRC email lavishes praise on Museveni and his government for proclaiming the kind of "faithfulness" "that will raise Uganda's status as a new power in Africa."

If the subtext of the FRC's praise isn't clear enough, the only person quoted besides Museveni in the FRC missive is Scott Lively, co-author (with Kevin Abrams) of The Pink Swastika: Homosexuality in the Nazi Party and president of the nonprofit organization, Abiding Truth Ministries, a group almost wholly dedicated to maligning LGBT people. (Lively tries to paint Nazism as the evil design of gay men, despite the well-documented persecution of LGBT people in Nazi Germany.) Lively bills himself as "one of the most knowledgeable and articulate opponents of the homosexual agenda in America," and he brought his expertise on the gay agenda to a conference on the subject in Kampala, the capital of Uganda, just before the "Kill the Gays" bill was introduced by its original sponsor.

Lively boasts about that conference in his "Report from Uganda," noting with pride the eminence of his audience, which included lawyers, teachers, ministers, and members of the Ugandan Parliament. Lively was backed up by two other American experts on the "gay agenda": ex-gay Caleb Lee Brundidge and Don Schmierer. All three have disclaimed responsibility for the bill that quickly followed, though Lively currently is being sued by a Ugandan gay rights group for "inciting the persecution of gay men and lesbians" in that country.

Apologists for the Christian Right often scold political opponents for misunderstanding the goals of Christian conservatives and especially for misrepresenting the movement as having theocratic ambitions in the U.S. However, messages such as the one sent by FRC, lauding Museveni as he dedicates his nation to their idea of God, illuminate Christian conservative leaders' intense yearning for theocracy in America and, failing that, in states where American Christian conservatives wield some influence.

This is certainly bad news for the people of Uganda and other developing nations whose leaders maintain ties to the U.S. Christian Right. And it seems to clarify where America's foremost Christian public policy and lobbying organization stands: firmly on the side of punishing lesbians, gay men, men who have sex with men, and women who have sex with women, even at the cost of their very lives.

But state that conclusion, and FRC leaders and their allies will accuse you of making a false accusation. Tony Perkins and FRC consistently have rejected any implication that they support the death penalty for same-sex sexuality or, indeed, any "penalty which would have the effect of inhibiting compassionate pastoral, psychological, and medical care and treatment for those who experience same-sex attractions or who engage in homosexual conduct."

Now FRC has reiterated that message in an email alert that went out to subscribers last week, titled: "Lyin' Taming over Africa." In an exasperated tone, FRC states categorically that while it does not support the death penalty for homosexuality it does oppose "the suggestion that gay and lesbian acts are universal human rights." No word yet on FRC's position on other provisions in the proposed legislation and in current law, including long prison sentences and the requirement for citizens to report people who engage in same-sex relations to government officials.

Just so we're clear: Tony Perkins and the Family Research Council are heaping approval on Museveni's bid to defy "the West" on "traditional values," eliminate "sexual immorality," and rule Uganda according to biblical law, and they're quoting Scott Lively on the superiority of Museveni's Christian leadership. But that does not imply anything about FRC's preferences on the safety and equality of lesbians, gay men, and bisexuals. Got it.