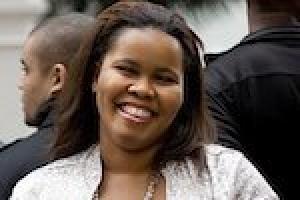 Picture: Democratic Alliance
An article by a Mail & Guardian journalist accurately described Lindiwe Mazibuko, the Democratic Alliance (DA) spokesperson, as "a new kind of South African politician." I do not, however, subscribe to the view that Mazibuko is a new breed of South African politician simply because she watches Black Adder reruns to relax or because she enjoys drinking cabernet sauvignon at the "hip Societi Bistro."
What makes Mazibuko a new generation of black politician is that she's is a strong African woman who aspires to join the leadership of a white project that is fundamentally designed to maintain the legacy of whiteness in this country.
The DA represents the legacy of white liberalism in South Africa. Theirs is the liberalism of a special type. RW Johnson traces the lineage of this tradition from the Progressive Reform Party and the Progressive Federal Party, all the way up to the Democratic Party.
According to RW Johnson, this is the type of liberalism that, ever since its emergence, has historically had as its "chief motive power" the "ability to attract and harness the abilities of the better educated and talented young Anglophone whites." In simple English, this is a political tradition that has always been white in composition and outlook. In fact, according to historians, it was not until the late 1980s that blacks were allowed to join the Progressive Party, for instance.
It is not surprising that colonial patriarchs likes RW Johnson, who is prone to making racist rants, pride themselves for being part of this tradition. Last year, The London Review of Books (LRB) had to remove one of RW Johnson's offensive racist nonsense from its website. The LRB apologized explaining that it "does not condone racism…"
The history of white liberals in South Africa is shameful. For example, Ronald Roberts points out that "those for whom Helen Suzman remains a 'liberal' must, for example, suppress the fact that never once during her long career did she ever advocate the elementary liberal principle of universal franchise, unlike Alan Paton, whose Liberal Party dissented from Suzman's Progressives on this fundamental point during the 1960s."
Yet, this is the political project that Mazibuko wants to be part of. Some of her detractors inaccurately call her a 'coconut'. She's no "tea girl" either. Mazibuko is a smart African woman who wholeheartedly and sincerely believes that the DA values diversity. Its obvious she thinks that the DA is committed to bridging the gap between the poor and the rich in this country. She has to believe this. Otherwise she would experience a debilitating cognitive dissonance.
The simple truth is that Mazibuko is a political actor playing a certain role in a certain institution. Given our history, her skin colour gives her credibility and therefore makes her effective in carrying out her tasks. That makes her intimidating to many in government and to others in society as a whole. I am more than convinced that she does not have a white master to tell her what to think and say. I believe her when she says that she can articulate the DA's vision and future. After all if she could not do this, she would not be where she is right now.
It is worth keeping in mind that for her honours thesis, Mazibuko chose to research the DA. During the course of her research, she discovered that her values were consisted with the DA's politics. Mazibuko comes from a school of thought that subscribes to a notion of 'colour-blindness', and this school of thought is fixated on pushing the fashionable post-racial liberalism into the national discourse. Post-racial liberalism does not attribute social challenges faced by blacks to racism, but instead rationalizes inequality by referring to the logic of the markets and the economy. Colour-blindness enables these post-racial liberals to deny racism even when presented with statistics that show that whites continue to employ each other in post-apartheid South Africa.
According to Mazibuko, race analysis appeals "to the most wounded parts of the South African people's psyche – the anger, shame, denial, and deficit of self-esteem, which apartheid has bequeathed to us. It is the path of easy villains, lack of empathy and understanding, and the peddling of fear and loathing and resentment."
Indeed, post-racial liberalism is characterized by this sort of psychobabble, which tends to be dressed up in fancy language and cute sentence constructions, but in the final analysis is out of touch with reality and thus defies logical analysis. The reality is that South Africa is one of the most racially unequal societies in the world; whites dominate management positions in South Africa, and white people continue to be appointed and promoted in empowering positions in the workplace while blacks are constantly overlooked.
American thinkers who have been working in the area of inequality and race far longer than we have in South Africa argue that colour-blind policies are not a solution to social disparities that are rooted in institutionalized racism. The solution lies in overcoming our colonial legacy and in getting rid of racist institutions.
This is not the kind of politics that Mazibuko subscribes to. But then again, if her politics were not what they are now, she would not have gone as far as she has in the DA power hierarchy.
In running for the party's parliamentary leadership position, Mazibuko has gone out of her way to reassure those whites who still doubt her true allegiances by agreeing to have two men who are trusted bearers of the DA legacy in the Western Cape, as her handlers. Her Orwellian way of explaining her decision is amusing, if not revealing. As if she had a choice in the matter, she says that she decided to put together a "team of running mates" in Wilmot James and Watty Watson in order to make a "rounded leadership team." The truth of the matter is that although Mazibuko may truly believe in the fiction of colour-blindness, most of the whites in the DA do not believe their own propaganda. This is why many blacks experience Cape Town, the stronghold of the DA, as a hostile space.
That is not Mazibuko's experience however. Mazibuko is a different kind of black. She is the kind that fits in nicely in white social hierarchies. One of her identifying markers that sets her apart from ordinary black South Africans, mainstream media repeatedly tell us, is that Mazibuko is well-spoken, meaning that she speaks English in a way that excites white South Africa. White South Africa finds that appealing for, presumably, they see a part of themselves in Mazibuko.
To white South Africa, Mazibuko's achievements serve as proof that institutional racism is a thing of the past. Through her English accent alone she is able to access the power that goes with being perceived as intelligent and competent. She's been granted that social power, which is synonymous with whiteness and in return, Mazibuko vociferously defends white interests in a country where 79 percent of the population is black. She does this despite the fact that a DA government would roll back some of the social gains that poor black people have fought for in this country.
**Editor's Note: This article has been corrected. It had previously erroniously identified Wilmot James of the Democratic Alliance as white.