Keyword: Lindiwe Mazibuko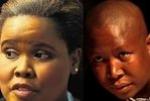 Leonard Gentle - Two events have been the subject of recent media comment: the ANC Youth League's (ANCYLs) march for "economic freedom" and the rise of Lindiwe Mazibuko as Democratic Alliance (DA) leader of the opposition. These rather over-shadowed a third, Finance Minister, Pravin Gordhan's, Medium Term Expenditure Framework (MTEF). Gordhan's message of pre-emptive austerity - doing "more with less" - of course couldn't compete with Mazibuko's rise and,...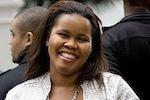 Mandisi Majavu - An article by a Mail & Guardian journalist accurately described Lindiwe Mazibuko, the Democratic Alliance (DA) spokesperson, as "a new kind of South African politician." I do not, however, subscribe to the view that Mazibuko is a new breed of South African politician simply because she watches Black Adder reruns to relax or because she enjoys drinking cabernet sauvignon at the "hip Societi Bistro." What makes Mazibuko a new generation of black politician is...