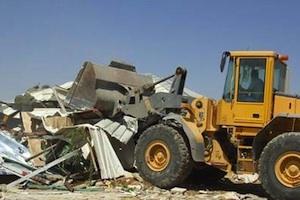 Picture: theonlydemocracy.org
It was with sheer terror that we witnessed the grotesque spectacle of the bulldozing of fully built brick and mortar houses in Lenasia by government officials last week. Images of desperate women being pulled out of their houses and attempting to stop bulldozers from demolishing their lives haunt our recent memories. This was reminiscent of the forced removals of yesteryear when fully settled communities were forced out of their homes by a draconian apartheid government.

What could prompt a democratic government to perpetrate such violence against its own people?

On Monday our Media for Justice video team went to Lenasia to find out from the residents what could possibly have prompted this act of violence. In our opinion it constituted a gross misconduct of human rights. Was this what South Africans were to expect in the Post-Marikana South Africa? Were all human rights to be massacred, mowed down and disregarded in the name of neoliberalism?

We arranged to meet Lazarus Baloyi in Lenasia – Nirvana Road – where a small picket is taking place. He is Chair of the Concerned Residents of Lenasia. He holds a placard that reads. "Withdraw from court – come let's negotiate. Humphrey Mmemezi we did that! Why you demolish our houses."

Baloyi tells us that this all began when residents were unsuspectingly sold stands by various dubious agents posing as housing department agents.

"We were furnished with housing plans that were approved by the housing department, which later were proved to be fraudulent. Some of these housing officials got arrested. Later on housing officials came around and wanted to destroy the houses - but we got a court interdict and started negotiations with housing department MEC, Humphrey Mmemezi. He indicated to us that we should withdraw from the court so that we could have negotiations and resolve the matter amicably. We did and had a meeting with him where he asked us to submit our particulars."

The community then submitted all the information that was requested of them regarding who sold them the houses, and what their addresses were. Negotiations continued to the stage where they were told that the department was working out the pricing methods for the stands and looking at charging the residents market related prices.

"It was at this stage that the MEC Mmemzi resigned from office. When the new housing MEC, Ntombi Mekgwe, came in, we tried several times to secure a meeting with her and were told she is waiting to get a directive from the previous MEC. Then one Thursday she came down and we were expecting that finally she was there to negotiate with us."

What happened instead is that the residents were served letters of eviction. These letters read, "To whom it may concern," and were thrown into their yards.

After this shocking turn of events, community leaders went to meet the Director of housing who informed them that he did not know about the story, but promised that the whole operation would stop.

"It was while waiting for them to come back to us that we saw ganda gandas (bulldozers) coming to demolish. We were taken by surprise. And this happened when the MEC was not around and the Director was on leave. It is like some junior made the decision to go ahead."

I also went to the home of Nonhlanhla Pholo, which is on the list of houses to be demolished this week. She shows me the bald patches all over her head. She tells me she has lost clumps of her hair in the last few days – since the demolition of the houses in Lenasia started.

"I bought this land in 2006 from what we understood to be an agency working for government. This was called Simunye Community Trust. After not qualifying for an RDP house or a bond, when we heard about this agent in Lenasia, we jumped at the opportunity to buy land. The land was going for R65 000.00 and we were asked to put a deposit of 50% down, which we did. The agent then told us that he also builds structures for this land, as it should be in keeping with the standard of housing in the neighbourhood. So we agreed that he could build our home for us too. However, when the building was being built we realised that if it was inspected by the NHBRC it would be found to be substandard as even the walls were weak – so we were forced to demolish our own home and begin to rebuild. This meant we lost the R150 000.00 that we had paid the developer."

"Both my husband and I found employment so we took out loans and cashed in on our road accident fund, his life cover and children's school trust to begin to build again."

Pholo is living on tenterhooks since the demolitions took place. She tells me that a woman who was living around the corner from her who had her home demolished is currently in hospital suffering a nervous breakdown.

"I am so scared. I cannot sleep. I cannot eat. I cannot hug my children. They keep asking me about our house – I have to tell them that this is now in God's hands. But please tell me – do you think they will stop demolishing?"

I do not know how to answer this question. I want to quote the Grootboom Ruling but I am not sure it really applies in this case.

The government does not see these earners as those in desperate need and are refusing to provide alternative accommodation. Their aim is to show a zero tolerance approach to fraudsters and scammers and somehow these residents are viewed as part of the scam. According to the housing department people were warned not to build on this fraudulent land, but they went ahead anyway.

"I am so afraid. I have never stolen anything from anybody. Now I am being accused of stealing a piece of land. I have papers to prove that the government has approved the deed of sale. We are prepared to pay market value for this land and we are pleading with the government to not demolish our homes but to negotiate a settlement. I have R50 000 in the frozen bank account of the fraudster who was arrested – that can go to the government for the land. We did not know we were involved in a fraudulent deal. As it is I have taken out personal loans, bank loans…how will we pay these back while our homes are demolished?" says Pholo.

I cannot shake the feeling that there is much more going on in this Lenasia housing crisis than meets the eye.

The land that has been earmarked for RDP housing is little pockets in between double-story mansions and housing that belongs to the Indian community. How is it possible that this government land is earmarked for RDP housing in what looks like a wealthy business and residential area?

There are whisperings of racially motivated moves to rid the neighbourhood of the influx of black African homeowners, whispered allegations of money passing through the hands of developers to government officials to ensure that no negotiations take place. The land has been recognized as prime land now that a huge shopping mall has been erected close by.

The question many of the black African victims of eviction are asking is why none of the Indian properties are being demolished if those are also on the same block, and why are business properties being built on residential land?

But I was not prepared for the information that Baloyi later shares with me. He tells me that the problem of housing in Lenasia began way back when current Gauteng premier, Nomvula Mokonyane was still the provincial MEC for housing. She left the Housing Department without resolving matters. He tells me that there was a relative of hers who has since passed away who was actually involved in selling stands fraudulently.

"This all indicates to us that the department may have had a hand in this matter of fraudulent sales. I mean people received title deeds with the Housing Department logo on them. Some of these officials have been arrested and some are languishing in jail. The way they have gone about brutalizing our rights now though, makes us believe that this whole operation is a mafia based operation aimed at killing evidence."

Surely then, the Gauteng Department of Housing is being way too hasty in demolishing fully built homes in a country where housing is one of the major problems for black Africans in particular.

With all the half truths and allegations and evidence flying around, are they not obliged to do a thorough investigation into the matter instead of victimizing the victims? Could they also not negotiate a settlement with the homeowners instead of demolishing their homes whilst children are writing matric exams just before Christmas?

The bottom line remains that demolishing people's homes is an act of brutality and in contravention of the constitution – or is this another case of black Africans being excluded from constitutional rights by what is looking more and more like an anti-people government.