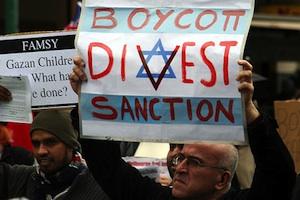 Picture: Takver/Flickr
The launch of a new handbook containing details of Israeli companies to be targeted as part of a boycott, divestment and sanctions (BDS) campaign has sent ripples of excitement through the global Palestine solidarity movement.

"Targeting Israeli Apartheid", published by Corporate Watch is a mammoth piece of research detailing most Israeli companies operating anywhere in the world, and how trade with those companies supports the state of Israel.

The BDS movement became a globally co-ordinated one about eight years ago, and since then, the academic boycott of Israeli universities has taken root all over the world. BDS groups in nine European countries have successfully targeted Carmel Agrexco - a 50% state-owned Israeli exporter of fresh produce, 60% of which is grown in Israel's illegal settlements in occupied Palestinian territories (OPT). As a result of BDS protests, Carmel Agrexco last year ran up a debt of over R400 million and was set for liquidation, or possible privatisation by the state of Israel. The BDS movement has also caused French companies Veolia and Alstom to lose business – these companies were targeted for building the Jerusalem Light Rail train link to Israeli settlements, and for operating Israeli settler only bus services on which Palestinians are forbidden to travel. The BDS campaign succeeded in getting local authorities in Europe to exclude the companies from tendering for multi-billion contracts.

Even cynics will acknowledge that pro-Palestine activists – which include in their number older Holocaust survivors and younger Jewish activists and refuseniks – have largely made the point that Israel is an apartheid state. With its segregated living spaces, roads, schools, Israeli-only beaches, walled-off Bantustans for Palestinians and its military occupation of the Palestinian territories, it bears an uncanny resemblance to apartheid in South Africa – which was ruled a crime against humanity.

In South Africa, an increasing amount of Israeli produce is being imported by major supermarket chains like Pick n Pay, which this summer, stocked Israeli plums and lichees, and intermittently, Israeli avocados.

Retailers like Clicks, Dischem and Wellness Warehouse have been stocking the Israeli Ahava and "Yes to Carrots" ranges of beauty products for some years now, even though the Ahava products at least are manufactured in the Mitzpe Shalom Israeli settlement in the occupied Palestinian West Bank, in defiance of international law.

The attitude by retailers is that in a free market economy, nobody can stop them from sourcing products from Israel. As an antidote, journalist Ewa Jasiewicz proposes in her foreword to the new book that it be used primarily as a tool for direct action against companies doing business with Israel.

Treatment Action Campaign founder and veteran activist Zackie Achmat described the power of direct action after a protest by the Open Shuhada Street and the University of Cape Town's Palestine Solidarity movement in 2010.

When a group of activists descended upon Cape Town's Wellness Warehouse, loaded up baskets with Ahava products and refused to pay for them, they succeeded in closing the store – for a time at least. As one group of activists was removed by security guards, others replaced them. The mainstream media coverage of the racist homophobic taunts shouted at the activists by the pro-Israeli Group 18, including "you blacks don't have the right answers" dented the image of the pro-Israeli lobby.

In London, activists have succeeded in shutting down Covent Garden's Ahava store altogether after years of direct action led Ahava's landlord to cancel the store's lease.

2011 saw the University of Johannesburg breaking ties with Ben Gurion University in Israel and also a successful direct action by the Young Communist League, SASCO and the BDS working group, made up mainly of students, against a visiting group of Israel youth.

Again, a glimpse of the power of highly organised direct action was seen when the Israeli visitors were forced to cancel their public welcome at OR Tambo International airport after it was flooded with protestors, and even had to be escorted out through back entrances in disguise.

"SASCO had a 50 person strong team deployed from 06h00 at strategic points in the airport. SASCO members were instructed to converge in pickets if the local hosts had made any attempts to welcome their Israeli counterparts" wrote BDS activist Muhammed Desai afterwards.

However, South Africa's major support to the state of Israel comes in the form of rough diamonds. An estimated R4.55bn worth of rough diamonds are exported to Israel for cutting and polishing by local companies like de Beers, who for some reason, seem to loathe establishing cutting and polishing plants locally.

Palestinian "Stop the Wall" coordinator Jamal Juma'a has said that "a significant part of the rough diamonds sold on the South African Diamond Exchange end up in Israel", and the new BDS handbook reveals that the diamonds cut and polished in Israel make up 45.6% of Israeli exports, boosting the Israeli economy by about R150 billion a year.
As Cosatu's international secretary Bongani Masuku said at a rally on the sidelines of last year's Russell Tribunal on Palestine, Cosatu would "call to order" government for allowing rough South African diamonds to be sent to Israel for cutting and polishing.

But putting into motion a concrete plan to end South Africa's diamond trade with Israel has eluded the Palestine solidarity movement in South Africa for several years now; and grassroots direct action against De Beers does not seem to be in the pipeline.

A major obstacle to ending the diamond trade seems to be the cosy relationship that Palestine solidarity activists enjoy with Deputy International Relations Minister Ebrahim Ebrahim and many other personalities in the ANC. In 2010, the Palestine Solidarity Committee praised Ebrahim's decision to recall the South African ambassador to Israel in protest against the killing of international activists who had been sailing on an aid flotilla to Gaza – even though this was clearly a temporary measure, which eventually had no real effect on Israel since the ambassador was returned to Tel Aviv just weeks later.

The ANC is itself very loathe to be seen to be interfering with the big diamond and gold producers and Cosatu also appears reluctant to institute a complete blockade of goods travelling to and from Israel.

Cape Town Palestine solidarity activist Shaheed Mahomed says, "the National Union of Mineworkers' members on the diamond mines have long ago labelled any diamond that goes to Israel as 'blood diamonds'. The workers of both Cosatu and independent unions at Durban docks have long indicated their willingness to act to blockade any goods going to or from Israel".

One of the problems is that action is left to individual workers, outside of union structures. A union decision would be needed to put a blockade into place, Mahomed says.

Jasiewicz says, "The end of Israeli apartheid, militarism and occupation will not be achieved by representatives, governments and politicians but through grassroots solidarity". Organised township groups have shown, year after year, their willingness to support the Palestinian cause, but the fact that they are not pulled into decision-making meetings on a regular basis, limits the involvement of working class Black South African movements in the cause.

When an international day of action necessitates pulling together a mass march, the Muslim community then becomes the default "go to" group, with solidarity groups setting up meetings with religious leaders to ask for mass support. This in turn weakens the movement because it gives the impression that it cares about numbers rather than diversity.

The lack of an organised direct action programme also sets the stage for slanging matches between individual activists and people like Dischem group CEO, Ivan Saltzman, who, after a war of words last month, refused to stop stocking Israeli products in his store. An organised programme of direct action against Dischem stores, along the lines of the Open Shuhada Street's actions at the Wellness Warehouse, would have been more effective than last month's war of words with Saltzman.

BDS working group co-ordinator Mbuyiseni Ndlozi says 2012 will be the year for popular growth in the BDS movement. It is likely that the 60 high profile religious leaders - many of them Christian - associated with Kairos Southern Africa will soon be getting involved in BDS, he says. But key to the success of BDS in South Africa will be a new plan by the Palestine solidarity movement to disrupt the export of rough diamonds from South Africa to Israel.