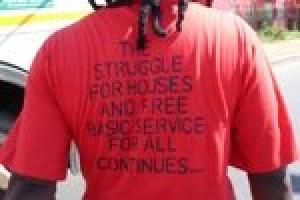 Picture: Ismail Farouk
The anniversary of South Africa's decade of democracy signalled a turning point in the way many South Africans view this country.

Since then we've been treated to a gaggle of critiques measuring the gains of our democracy.

The overall conclusion has been that it was a decade of poor gains. A decade of missed opportunities. A decade marked by a paucity of ideas about how to achieve real transformation, and most alarming of all, a decade of denial.

Extreme denial in particular, has been a defining feature of the current administration, whose ten-year tenure is coming to a close.

A decade ago, there was denial from government that the housing programme insufficiently targeted the poor. But the thousands of protests taking place in poor communities still demanding houses and associated services, tell a different story today.

The housing crisis of course has been surpassed by the HIV and AIDS crisis; and reams of critique have already been produced about our government's head in the sand approach to this problem.

Now we're being entertained by the stupid masquerade denying the political, social and economic crisis in Zimbabwe.

However, the greatest denial from the current administration is that its social and economic policies are not pro-poor.

Politicians and bureaucrats have been proficient at churning out high figures for budgetary allocations towards social expenditure - and at achieving quantitative milestones. "The housing backlog apex is broken", gushed the minister of housing, Lindiwe Sisulu, in 2007, completely ignoring the fact that much of what's being delivered is sub-standard housing that is physically, socially and economically dislocated from centres of opportunity for the poor.

There simply is no quality control when it comes to the delivery of social goods and services to the poor. Who keeps an eye on what is delivered, how it's being delivered and what impact it's having on South Africa's transformation?

Very few people are, and those who dare to raise their heads to offer a dissenting view are dealt with decisively, as we witnessed with the savage sacking of the former deputy minister of health, Nozizwe Madlala-Routledge, who dared to acknowledge the shortcomings of our public heath system.

The problem is not only that President Mbeki has surrounded himself with a cheerleading cabinet. It is also that mainstream critiques have so far failed to analyse the drivers of poverty and to question the effectiveness of South Africa's socio-economic policies as instruments for change.

We do indeed have social policies that are being developed and delivered within a macro-economic framework that is structurally at odds with the broad goals and objectives of these policies.

Yet the discourse about the drivers of poverty and inequality, has not yet entered mainstream critiques.

This is unfortunate because change only comes about when there is mobilisation. This makes it important to popularise socio-economic rights, as well as, highlight their upstream challenges.

Its not an easy task. Many journalists and editors argue that "poverty" and "development" are not money-spinning news issues. Media houses are, after all, businesses that have to meet their bottom line.

This is a fair point.

However, the media do justify their role in democracies by positioning themselves as society's watchdog.

Given that we live in a country, which in large part is made up of the underprivileged, it can be argued that the media could be more cognisant of their social responsibility towards broader society and not just a narrow elite, making it incumbent upon them to move beyond their narrow watchdog role, to become our conscience.

SACSIS has been established to feed a fresh perspective to the media in order to influence policy makers, and raise awareness amongst the broader public, about socio-economic rights and the drivers of poverty.

We live in a country where major shifts are taking place.

The imminent changes in South Africa, Zimbabwe and indeed in the rest of the world, signal a changing of the guard and an opportunity for civil society and the media to influence a different outcome, which must get us off the trajectory that has brought us to this place today, where we find ourselves facing climate change, growing poverty and widening inequalities.

Let's influence that change.