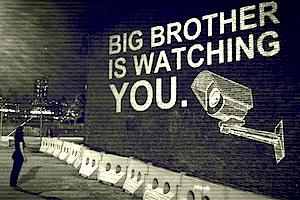 Picture: Tenth Amendment Center
E-tolls. Many, if not most, Gauteng residents hate them, even though the South African National Roads Agency (Sanral) has gone on a charm offensive to try and turn public opinion around. In spite of mass opposition to electronic tolling in the province, the government has decided to continue with it, and to link payment to the renewal of motor vehicle licence disks to force compliance.

The government's decision followed an advisory panel report on the issue, which made a case for e-tolls to continue to provide funding for the Gauteng Freeway Improvement Project (GFIP), although it recommended reduced tariffs and alternative funding sources. The panel claimed to adopt a human rights approach to its work, which it said must be used to assess the impact of e-tolls in terms of 'actual human experiences and relations'.

However, its mandate was confined to the socio-economic impact of e-tolls. One human rights issue that remains unaddressed in the panel's report is the impact of e-tolls on people's right to locational privacy. Even e-toll detractors have hardly mentioned this issue, which is a major gap in public and media debates.

Sanral tracks a vehicle's locational information on tolled freeways, which they do by taking photographs of the vehicle registration plates as the vehicle drives under the gantries. Vehicles with e-tag transponders will communicate with the gantries via the transponders.

Automated toll systems such as the one run by Sanral in Gauteng trigger particular privacy concerns because they involve the observation of specific vehicles in ways that allow the identity of the vehicle's owner to be revealed. Although conceivably someone other than the owner could be driving the vehicle, ultimately the vehicle can be traced back to its owner.

Locational privacy refers to the right of people to move about freely, without having their movements tracked. Information about a person's movements can reveal a great deal about a person's personal, social and political activities. Governments intent on cracking down on dissidents, for instance, can misuse this information to establish a person's habits, political involvement and associations. People may also not participate in public life robustly, and self-censor, if they feel they are being watched, which may threaten a society's democratic life.

Locational privacy is a fairly new and novel aspect of privacy rights. Some jurisdictions don't even recognise it as a justiciable issue yet, as they argue that people cannot have a reasonable expectation of privacy in public spaces, such as roads. Some may argue that objecting to having one's movements tracked in public is paranoid. If you have nothing to hide, then why worry? After all, only the guilty are afraid.

But these arguments miss the point that location-related devices are becoming cheaper and more widespread, which means that the potential for them to be used for anti-democratic purposes has increased. In fact, location-based services are the perfect mass surveillance tool, as they collect and store vast quantities of locational information for further analysis.

There are some basic principles that citizens should demand of their governments when it comes to locational privacy. People should have a right to travel without being coerced into revealing their locational information. Anonymised payment options for electronic tolling should be available to allow people to maintain their privacy. State institutions should collect the minimum amount of information to achieve its intended public policy purposes.

Also, locational data should be stored and processed according to a person's privacy preference, with a narrowly defined exception for law enforcement. All possible uses of the information collected must be considered, not just the intended use: this is because - whether intentional or not - the information may land up in the hands of others for secondary uses.

According to the Electronic Frontier Foundation (EFF), '…we need to ensure that systems aren't being built right at the zero-privacy, everything-is-recorded end of that spectrum, simply because that's the path of easiest implementation'. They have argued that the best way to protect locational privacy is to build systems that don't collect location-based information in the first place.

When these principles are applied to Gauteng's e-tolling system, it becomes apparent that what is touted as a state-of-the-art system, is prehistoric in its privacy settings. In fact, Sanral has rolled out the most privacy-insensitive e-toll system possible, mainly because the threats e-tolls pose to locational privacy has not been made into an issue.

This means that Sanral has failed to embrace the principle of privacy by design; that is, privacy should be embedded at all stages of a technology's design and implementation. Academics globally and locally have warned transport authorities intent on rolling out Intelligent Transport Systems (ITS's) like Sanral's – where digital tools are used to monitor traffic, toll vehicles and anticipate crises – that they need to build systems with privacy in mind, otherwise they risk alienating the public. Sanral appears to be oblivious to the warnings.

Privacy-enhancing alternatives to the current system are possible, using cryptography to allow for anonymous transactions between toll-road collectors and drivers. One option involves electronic cash, where a driver uses a digital signature to guarantee payment of tolls. This electronic cash can be loaded onto the transponder, which then pays the service provider anonymously. A pre-paid, non-registered transponder can also be purchased for cash.

Another option involves a vehicle carrying an on-board unit that computes the cost of a trip once it has been made, and sends it on to the service provider for billing at the end of each tax year. This option preserves privacy by ensuring that no location-related information leaves the unit.

Yet another option is for a driver to buy a wad of dynamic licence plates, or cryptographic numbers, on a pre-paid basis. When the vehicle drives under a gantry, the transponder sends one of the numbers to the service provider, but because the numbers are dynamic, they cannot be traced back to the driver. The driver then pays the total amount owed using an anonymizing payment method that cannot reveal how the amount was arrived at.

These options may sound outlandish to South Africans, whose main grievance against the system is cost. But the fact that they appear so is an example of just how immune South Africans are becoming to routine violations of their basic democratic rights and freedoms.

These anonymising options assume public legitimacy, though, where people consent to paying. In some other countries, consent has been forthcoming; in fact, drivers have embraced e-tolls as a timesaving innovation. But this is not going to happen anytime soon in South Africa, as too many people feel that they are being fleeced by the system. The overall sense of grievance is unlikely to go away, and Sanral's lack of concern for the privacy of road users adds insult to injury.

The e-toll system also needs to be seen in its broader national context. In line with ITS's elsewhere, Sanral has been installing cameras, electronic notice boards and other traffic management features along national routes. In fact, the company has the ultimate objective of establishing a centralised system of real-time traffic management. ITS tools are already being used in crime fighting in Cape Town, involving a network of video cameras installed with automatic licence plate recognition to identify suspicious vehicles.

As laudable as these efforts are, they also involve the normalisation of mass surveillance systems in public life. These systems, together with other CCTV, communications, financial and biometric surveillance systems, are turning the state into a one-way mirror, where the state can see more and more of what its citizens do, while citizens can see less and less of what the state does owing to high levels of secrecy.

Problems will really begin to emerge if these systems are linked with one another. They will be capable of producing metadata that could be used to profile, target and even destroy a person.

South Africans need to start asking the hard questions that citizens elsewhere are asking themselves about the longer-term implications of such massive erosions of privacy. As Jacob Appelbaum argued in Citizenfour (Laura Potrias's film on Edward Snowden), when you lose privacy, you lose liberty.